Facing the prospect of infection every time they walk through the door - despite the use of PPEs, the care they take in sanitizing surfaces, washing hands, and keeping safe social distances whenever they can - there are many times when hospital workers must come in direct contact with infected patients and the threat of COVID-19 hangs over them everywhere inside the building.
The risk has become a part of their job and there are thousands of healthcare workers putting themselves in harms way across Long Island so the rest of us can be safe.
So, when Kathleen DiBenedetto, RN, arrived to Stony Brook Hospital on Sunday morning, there was no doubt she was feeling a twinge of what every frontline medical worker feels at the start of their shift.
"I was feeling a little scared to go into the hospital," DiBenedetto told LongIsland.com.
But what she saw on arrival that day lifted her spirits.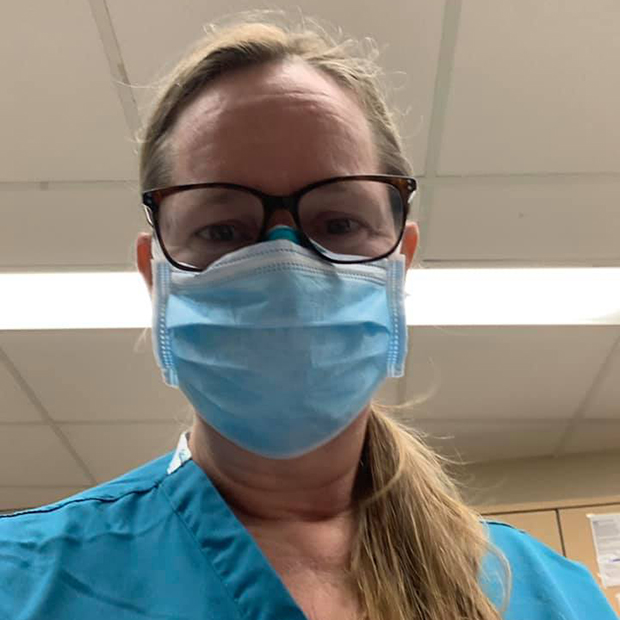 Kathleen DiBenedetto, RN. Photo: Facebook.
On the brick walkway and concrete planters were chalked messages of hope and inspiration in brilliant colors. Some read "Love to all frontliners," "#LongIslandStrong," and "The world needs you."
"When I first saw them this morning it almost brought tears to my eyes," DiBenedetto said. "To see the support written like that for us as we start our day, it felt empowering."
The idea came from the Child Life Services Department at Stony Brook Children's Hospital. The primary role of the specialists at Child Life Services is to support children and their families in the hospital going through a difficult time dealing with illness. But, according to Director Joan Alpers, they are sometimes called upon to help with other areas of the hospital.
This time, they used their skills to brighten the day of their fellow workers.
"We were looking for ways to raise spirits and cheer on the team," said Alpers. That's when they found out other hospitals were doing chalk drawings as well and thought it would be a great idea for Stony Brook Hospital.
Art Therapy Interns and Child Life Services specialists join forces to create inspiring art for fellow healthcare workers. Photo: Courtesy of Stony Brook Hospital.
So Alpers tasked Child Life Specialist Liz LaRosa to get the job done. She recruited three fellow specialists and three art therapy interns from Hofstra whose time at the hospital had been cut short this semester when all but essential employees were told to stay home.
"We pulled together a team of people to do some really spirit-raising art," said LaRossa. "The interns were anxious to come and help any way they could."
When the chalk they ordered didn't arrive from Amazon in time because of delays in deliveries, the team called upon a small charity for help. Williams Warriors is a non-profit dedicated to beating childhood cancer named for a 7-year-old Long Island boy who lost his life to brain cancer. Every year they host a Chalk the Walk event where participants do chalk drawings and raise money for cancer research and art therapy programs. Alpers and LaRossa reached out to the organization and they got the chalk they needed for their own project.
Watch a video below showing many of the chalked messages.
Video: Courtesy of Stony Brook Hospital.
Knowing they could do a "really good job" the team set to work and created a series of murals and chalk drawings that took four hours to complete. In the end they decorated the front entrance to the hospital and the rear entrance where many employees also come into the facility.
Their efforts did not go unnoticed.
The message that hit home the most for DiBenedetto was one that read, "This too shall pass." It was something her father, a retired NYPD Captain, told her when she was going through a particularly hard time in her life.
"It was so special," she said.
For healthcare workers on the frontlines of a war against an invisible enemy, the chalk drawings offered so much more than mere platitudes.
"It made me feel like what I am doing matters," she said. "And it's appreciated."
Alpers and LaRossa said that they were happy that their work helped to brighten the mood of their fellow healthcare workers on the frontlines.
"It was our honor and privilege to help," said Alpers.
See all some more of the images below.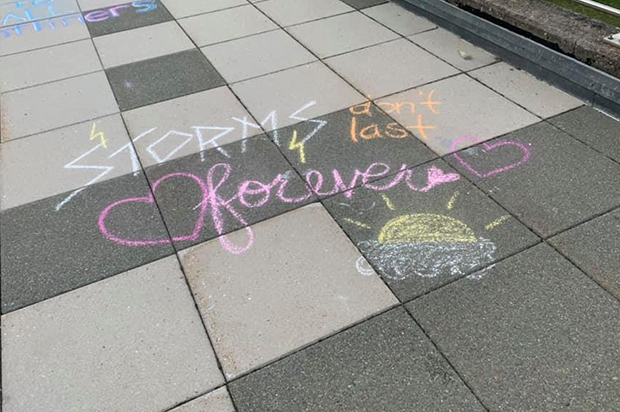 Photo: Kathleen DiBenedetto.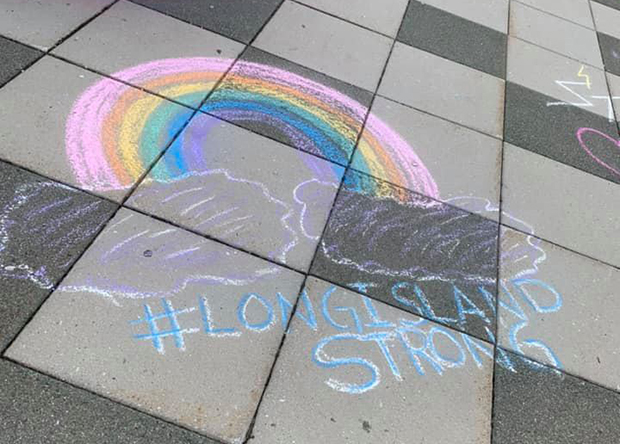 Photo: Kathleen DiBenedetto.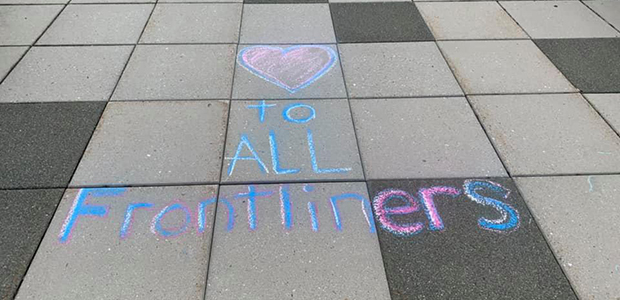 Photo: Kathleen DiBenedetto.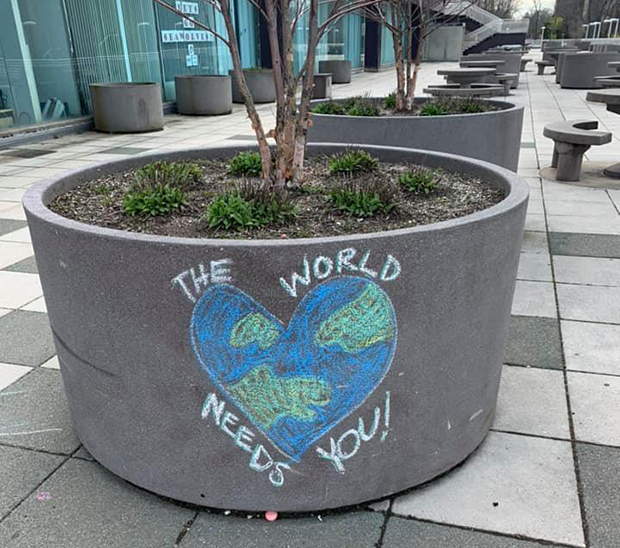 Photo: Kathleen DiBenedetto.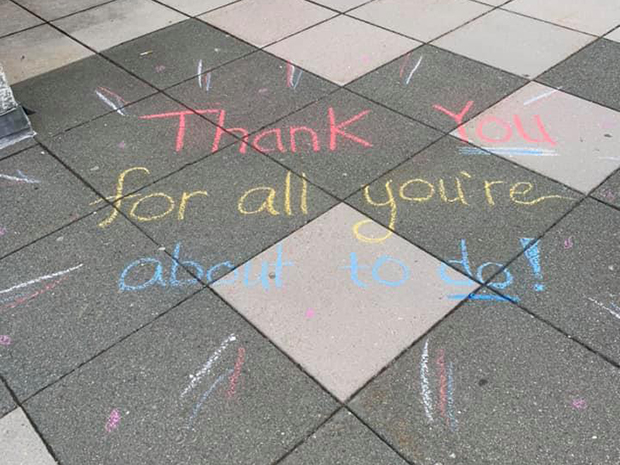 Photo: Kathleen DiBenedetto.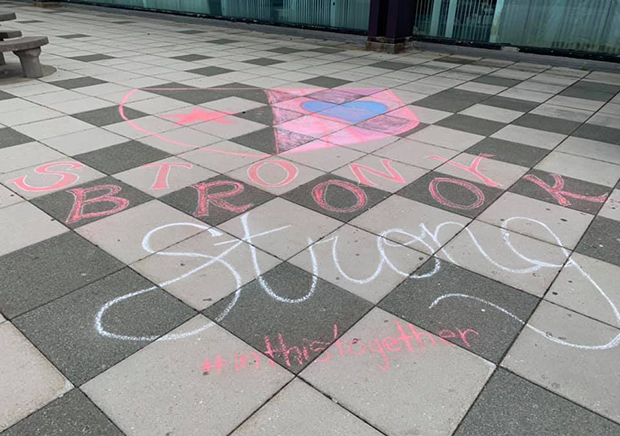 Photo: Kathleen DiBenedetto.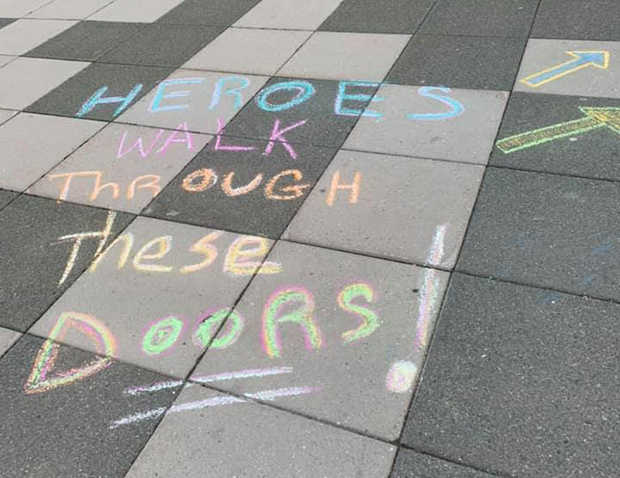 Photo: Kathleen DiBenedetto.
Photo: Kathleen DiBenedetto.
Mural made by interns and Child Life Specialists adorn the entranceway to Stony brook Hospital. Photo: Courtesy Stony Brook Hospital.