From 1/2 pound custom blend burgers, to vegan options, Vauxhall has a burger for just about everyone. The Villager, their classic of the bunch, is topped with cripsy bacon, cheddar and tomato jam on a brioche bun, and is always a solid go-to, but Vauxhall also crafts up some killer meatless burger options too. The Black Bean Sweet Potato Burger arrives with avocado and confit tomato and there is also a tasty Chickpea Edamame Burger accompanied with tomato, hummus and pistachio tahini. Vauxhall also offers a burger of the week, so be sure to ask your server what the kitchen has cooking up.
Local Burger Co. in Bay Shore is the spot to go for burgers, beers, and BBQ. This burger joint stays true to its name sourcing menu items from local establishments including craft beers, wines and ice cream all around the island. Their signature standout is The Local Burger, a classic burger topped with American cheese, tomato, lettuce pickles and their local sauce (creamy , mayo based, simlar to the Big Mac special sauce), simple yet utterly delicious. But don't miss out on some of their innovative mash ups like the PB & B (peanut butter, bacon, cheddar burger) or their BBQ Sundae (pulled pork, baked beans, coleslaw, and pickle chips served in a mason jar with a cornbread muffin).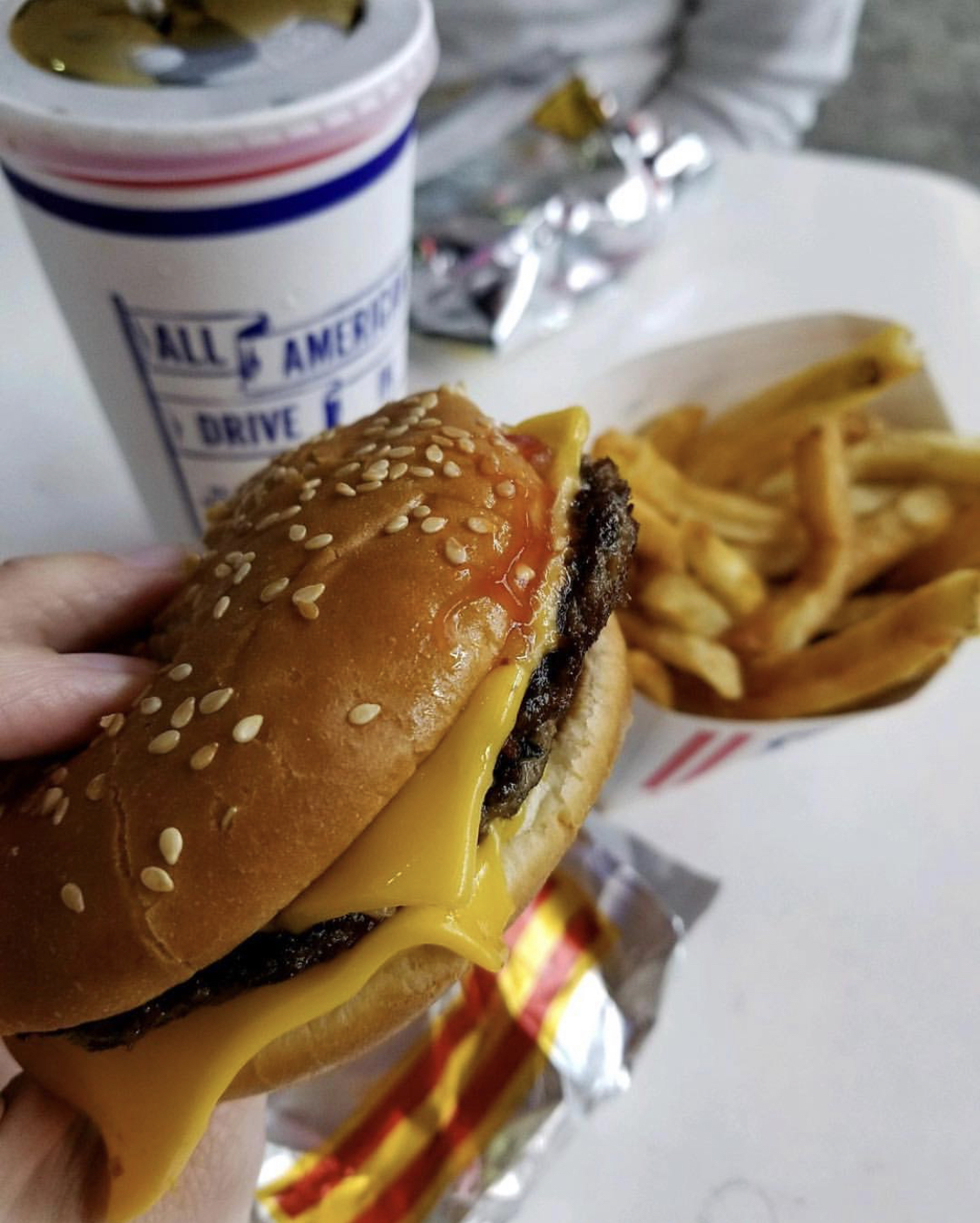 All American in Massapequa opened in 1963 and has been family owned and operated ever since. For more than eight years, All American Burger was voted Bethpage's Best of LI's Best Burger on Long Island. Their signature burger is the Quarter Pounder with cheese topped with just pickles and ketchup. Other favorites are their knishes and all beef franks, but if you're craving a fast food style burger, visit this mom and pop establishment and enjoy an original recipe burger and a creamy thick shake.
At New York Burger Bar in Massapequa, the Juicy Lucy is all the rave. An eight ounce patty stuffed with American cheese, topped with caramelized onions, tomato, pickled cucumber and a pink mayonnaise based sauce. Sink your teeth into this ooey gooey, molten cheese-stuffed burger and find out for yourself why its become one of the most famous handhelds on Long Island.
Off the Block in Sayville serves up everything from small plates to seasonal dishes, but most popular of all are their burgers. Each one is made with top quality, organic ingredients, grass-fed and locally sourced. Some of their mouth-watering signatures include the Chicken Bacon Ranch Burger (applewood smoked bacon, frizzled onions, jalapeño peppers, Monterey Jack cheese, chili ranch dressing on a toasted brioche roll), but most guests truly enjoy their signature 5 Cut Burger (blend of hanger, short rib, brisket, chuck and steak trim, topped with wild mushrooms, Swiss, caramelized onions with a peppercorn sauce on a sweet onion roll). Off the Block also serves up Sunday brunch from 10 a.m.-2 p.m.