Companies Send Surgical Masks to China for Workers
Isaac Larian, CEO of MGA Entertainment posted to LinkedIn that Coronavirus is a worldwide crisis that WILL effect the US economy.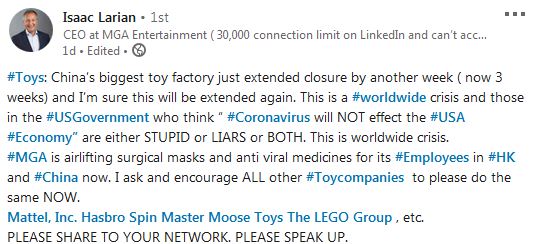 With MGA sending surgical masks to its team in China and Hong Kong, Larian asked others on LinkedIn to share and "speak up" with which Peter Pergament, President of Non-Stop Sales! posted that he's been sending 200 masks a week to his Ningbo office trying to get to 500 per week!

If your business is sending aid to China or Hong Kongs for the coronavirus please contact news@libusiness.com