Things To Do » Strawberry Picking
Long Island Strawberry Picking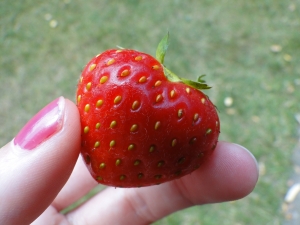 Strawberries are among the most popular fruits around and for good reason—they're delicious in their own right and make for some fantastic jams, jellies, preserves, ice cream, cakes, and other delectable dishes. Here on Long Island strawberry season coincides with the arrival of warmer weather and the transition from spring to summer, as the fruit grow and ripen throughout May and June. If you want to bite into the freshest, juiciest strawberries around, your best bet is to go to one of Long Island's many farms where you can pick your own; just remember not to pluck any green ones as they will not ripen off the vine.
652 Peconic Bay Boulevard in Riverhead
631-722-3302
324 County Road 39 in Southampton
631-726-4667
812 Sound Avenue in Calverton
631-929-4327
28700 Main Road in Cutchogue
631-734-6441
3810 Middle Country Road in Calverton
631-727-4554
Want to be added to the Strawberry Picking Page? Call 631-406-4410 or
Email Us
for details!
Stories You Might Be Interested In
Maple sugaring is the process of transforming sticky, tasteless tree sap into ...

Now that the weather is improving, farmers markets are beginning to start ...




Long Island has many farms that have baby chickens, goats, ducks, sheep, ...

Enrollment in the program helps farmland owners receive property tax assessments based ...