State Education Department Launches Virtual Learning Initiative Round II
$2.4 Million in Federal Race to the Top Funds Will Provide Low-Income Students Better Access to Advanced Placement (AP) Courses.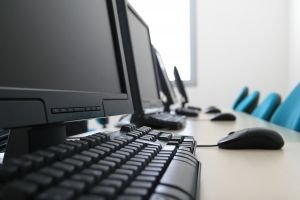 Albany, NY - July 28, 2014 - State Education Commissioner John B. King, Jr. today announced that three local groups of school districts (headed by Monroe 2-Orleans BOCES, Questar III BOCES and Jefferson Lewis BOCES) have been awarded grants under New York State's virtual learning initiative, the Virtual Advanced Placement (VAP) Program, Round II. The grants, funded through New York's federal Race to the Top funds, will enable students and teachers statewide to participate in Advanced Placement (AP) and pre-AP classes and exams. Three VAP Program grants worth a total of $2,412,095 will be distributed to more than 40 schools to develop online and blended courses.
"New York is a national leader in the use of technology to provide high quality, college level courses," King said. "Every student deserves to be prepared for college and careers, not just those who live in districts that can afford to offer AP classes. These 10-month grants will also provide professional development for teachers.
"A good percentage of New York students take AP classes and tests. But low-income students don't always get the chance to take AP courses. Those courses can be crucial for admission to and success in college."
There has been a steady increase in the number of New York public school students who benefit from the AP experience over the last 10 years. But King said there were still many districts that could not afford to offer AP courses, and the lack of resources and declining enrollment are sometimes forcing districts to disband their AP programs.
In November, 2012, in Round I of the VAP Program, $17.3 million was awarded to 17 local districts or consortia of districts. Since the January, 2013 launch, VAP Round I has begun the process of providing 15,000 students in more than 175 districts access to potentially 100 online and blended AP courses in more than 30 subjects – courses to which these students might not ordinarily have access.
The grants also can be used for other activities including: the purchase of needed technology resources to register and track student enrollment and performance on AP courses; computers for students to access the courses; and support for the cost of AP exams taken at the end of the course.
Final approval of the grants is subject to the review and approval of the Office of the State Comptroller.
Attached is a list of the districts and consortia receiving VAP Round II awards.
For a list of VAP Round I awards, please click here.
For more information on the VAP Program and other State Education Department programs funded through Race to the Top, please visit here.
BOCES District Superintendents commented on receiving VAP Round II awards.
"To say that we are excited that our consortium of districts has been successful in securing a Virtual Advanced Placement grant would be an understatement," Stephen Todd, District Superintendent,Jefferson-Lewis-Hamilton-Herkimer-Oneida BOCES said. "This generous grant will be a game changer for the students of our region. Students in a number of our districts will have access to this level of advanced coursework for the first time. In other districts, the array of options for our students will be expanded. This grant will enable the 36 districts of our region to collaboratively develop a capacity to provide our students with the type of academic programming that has been lacking due to financial stress and the challenges of small rural enrollments. Jefferson-Lewis-Hamilton-Herkimer-Oneida BOCES and St. Lawrence-Lewis BOCES will partner in this endeavor. We are deeply grateful for this opportunity, and we are excited about beginning the implementation right away."
"This grant award supports the collaborative efforts of Questar III to spur greater innovation in education by expanding student engagement in on-line learning," James Baldwin, District Superintendent, Questar III BOCES said. "The funds will allow us to provide access to AP courses for qualifying students in the Catskill, Germantown, Greenville, Taconic Hills and Rensselaer school districts as well as at Tech Valley High School (a joint venture of Questar III and Capital Region BOCES). I am grateful for the enthusiastic participation of these school districts in this important effort."
"We are excited to build capacity within our districts to further expand opportunities for students who may not otherwise participate in AP courses," Jo Anne Antonacci, District Superintendent, Monroe 2-Orleans BOCES said. "A support structure will be put in place to assist parents and students in recognizing that college and career readiness is obtainable."
VAP II Applicant

Amount Awarded

Districts

Partners (if applicable)

Monroe 2-Orleans BOCES

$380,410

Brockport CSD
Churchville-Chili CSD

Questar III BOCES

$534,263

Germantown CSD
Taconic Hills CSD
Greene Catskill CSD
Greenville CSD
Rensselaer CSD
Tech Valley High School

Jefferson Lewis BOCES

$1,497,422

Brasher Falls Central School District
Canton Central School
Clifton-Fine Central School
Colton-Pierrepont Central School
Edwards-Knox Central School
Gouverneur Central School
Hammond Central School
Harrisville Central School
Hermon-DeKalb
Heuvelton Central School
Lisbon Central School
Madrid-Waddington Central School
Massena Central School
Morristown Central School
Norwood-Norfolk Central School
Ogdensburg Central School
Parishville-Hopkinton Central School
Potsdam Central School
Adirondack Central School District
Alexandria Central School District
Beaver River Central School District
Belleville Henderson Central School District
Carthage Central School District
Copenhagen Central School District
General Brown Central School District
Indian River Central School District
LaFargeville Central School District
Lowville Academy & Central School District
Lyme Central School District
Sackets Harbor Central School District
South Jefferson Central School District
South Lewis Central School District
Thousand Islands Central School District
Town of Webb Union Free School District
Watertown City School District

St. Lawrence-Lewis BOCES, The College Board, the Madison-Oneida Regional Information Center, and Syracuse
University's School of Education (SOE)
Join Our Weekly Newsletter

Sign up for a free weekly newsletter covering things to do, hottest local headlines, and everything Long Island! Read more here or enter your email to signup.