Marty Lyons Foundation 29th Annual Celebrity Golf Classic on LI Benefiting Children with Sever Illness Proves Great Success
Sports heroes and celebrity recently teed off on LI insupport children with life threatening and terminal illness during The Marty Lyons Foundation's 29th Annual Celebrity ...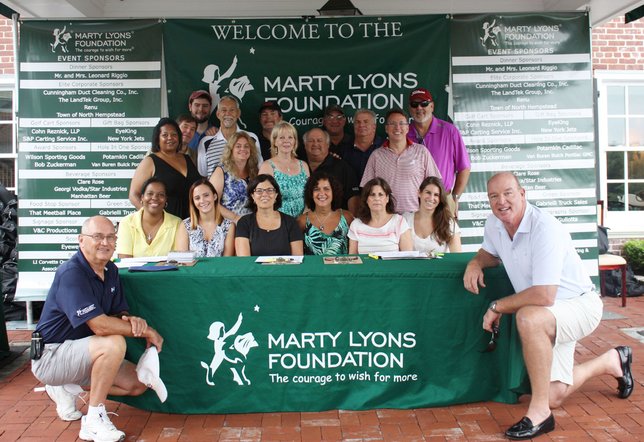 Commack, NY - July 22, 2014 - The Marty Lyons Foundation (MLF) recently hosted its 29th Annual Celebrity Golf Classic at the Old Westbury Golf and Country Club. The golf outing was the foundation's largest fundraising event of the year. Hundreds of supporters played golf and attended the evening festivities. The Marty Lyons Foundation was founded by Marty Lyons, a former NFL defensive lineman for the New York Jets and member of the legendary "New York Sack Exchange." The MLF grants wishes to children, between the ages of three and seventeen, who have terminal or life-threatening illnesses, and is the only nonprofit in the nation to offer second wishes.
The foundation's Man of the Year, Bobby Cunningham, Jr., owner of Duct Cleaning Co., Inc., was saluted at the evening dinner. "Bobby Cunningham, Jr., is an individual the foundation can count on to help us in our efforts to make our wish children's dreams come true. The members of our board, our volunteers and the families of all the wish children appreciate his support," said Lyons.
Among the dignitaries present was former New York City Mayor Rudy Giuliani who when addressing the dinner guests commended the Marty Lyons Foundation for its wish program and how it has kept hope alive in the hearts of thousands of children with terminally or life-threatening illnesses.
The highlight of the evening was a touching story of triumph over leukemia told by Gregory Kollar. Gregory and his father Richard spoke about how the foundation impacted Gregory's life when he was granted his wish 20 years ago. The guests were touched by the story of what the Foundation is able to do for children in their time of despair.
Greg Buttle, Master of Ceremony for the dinner, was among several celebrities at the golf outing including Mike D'Amanto, Bobby Nystrom, Emerson Boozer, Chad Cascadden, Cal Ramsey, Ken Schroy, Fred Baxter, Fred Catalanotto, Murray Legg, John Nitti, George Radachowsky, Mark Slawson, Mike Stromberg, Bryan Thomas, Phil Villapiano and Stephen Boyd.
"The Celebrity Golf Classic grows bigger each year. The foundation needs and appreciates the generosity of those who attend. All the members of our board and I welcome our supporters and thank the celebrity golfers. This is the 29th Classic and once again it has given us the perfect opportunity to interact with friends and foster support for our mission," Lyons said.
During the day golfers had the opportunity to challenge Lyons' golfing skills at one special par 3 hole. The course was full of fun activities and food. Members of The New York Flight Crew Cheerleaders interacted with golfers who also enjoyed cigars from Davidoffof Geneva (NY) Inc., and cocktails provided by Georgi Vodka.
The Marty Lyons Foundation is a 501(c)3 nonprofit organization. Efforts are made to raise over $200,000 each year to support the foundation's wish granting program. The primary sponsors of this year's MLF Celebrity Golf Classic include Mr. and Mrs. Leonard Riggio, The LandTek Group, Milburn Flooring, Cunningham Duct Cleaning Co., Inc., and Star Industries/Georgi Vodka.
Lyons' determination led to the establishment of the foundation after his own personal experiences with sickness and the deaths of close family and friends. With the encouragement of his family and friends, he formed The Marty Lyons Foundation in 1982. Since that time the organization
has granted over 6,500 wishes that have brightened the lives of countless children. Playing golf or attending the dinner helps to provide the foundation with the resources to fulfill its mission of granting children their special wishes.
For more information about The Marty Lyons Foundation and its events, visit martylyonsfoundation.org.
Photo Caption:

From Left to Right (Top Row): Will Dupre, Babylon, NY; Bill Corbett, Floral Park, NY; Kenny Schroy, Garden City, NY; John Gordon, Massapequa Park, NY; Murray Legg, Chelsea, AL; Phil Lyons, Brunswick, GA; and Kiva Boozer, Amityville, NY.
From Left to Right (Second Row Down: Eileen Mayer, East Islip, NY; Terri Fudens, Nesconset, NY; Mark Margolies, Huntington Station, NY; and Greg Wagner, Huntington, NY.
From Left to Right (Sitting): Sandra White, Queens, NY; Krystal DeWitt, Selden, NY; Jeanne Ellis, Garden City, NY; Susan Schroy, Garden City, NY; Camille Sauer, Bayside, NY; and Maria Sauer, Bayside, NY.
From Left to Right (Kneeling): Peter Michalewicz, Long Island Chapter President, Huntington, NY; and Marty Lyons, Smithtown, NY, Founder and Chairman of The Marty Lyons Foundation.
Photos
Join Our Weekly Newsletter

Sign up for a free weekly newsletter covering things to do, hottest local headlines, and everything Long Island! Read more here or enter your email to signup.