Bay Shore Man Shot, Killed After Brandishing Handgun at Police; Three Injured in Hit-and-Run Crash
A Bay Shore man was shot to death in after a traffic stop, and three people were injured in a crash in Melville early on ...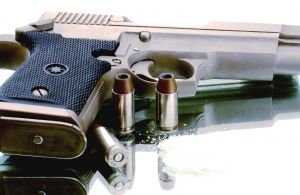 Bay Shore Man Shot by Officer
A Bay Shore man was shot to death during an incident with police officers early the morning of June 27. According to the SCPD, two third precinct officers initiated a stop of a vehicle on Howells Road at 12:02 AM for multiple traffic violations. After being pulled over, one of the occupants of the car fled from the scene on foot.
Andres Morales, age 27, was pursued by one of the officers and a confrontation ensued. Morales took out a handgun, prompting the officer to fire two rounds which struck him in the torso; he was pronounced dead at the scene when a physician assistant from the Suffolk County Medical Examiner arrived.
Police are investigating the incident and ask anyone with information to call the Homicide Squad at 631-852-6392 or Crime Stoppers at 1-800-220-TIPS.
Three People Seriously Injured in Hit-and-Run
In a separate incident, a hit-and-run crash seriously injured three people early the morning of June 27 in Melville.
A tractor trailer was traveling west on the LIE North Service Road around 2:25 AM when it struck a 2002 black Saturn. The tractor, which may have taken front-end damage, fled the scene.
The driver of the Saturn, 24-year-old Andrew Shikora of East Meadow, and two female passengers, both from Florida, were all transported to Nassau University Medical Center in East Meadow where they are receiving treatment for injuries sustained in the crash.
Detectives are asking anyone with information about the crash to contact the Second Squad at 631-854-8252 or Crime Stoppers at 1-800-220-TIPS.
[Source: Suffolk County Police Department]
Join Our Weekly Newsletter

Sign up for a free weekly newsletter covering things to do, hottest local headlines, and everything Long Island! Read more here or enter your email to signup.