Mara Sfara Brings Modern Mythology to the Bayard Cutting Arboretum
Sfara sculptures of ancient Greek figures (with a twist) have taken up residence in the newly reopened annex of the Bayard Cutting Manor House.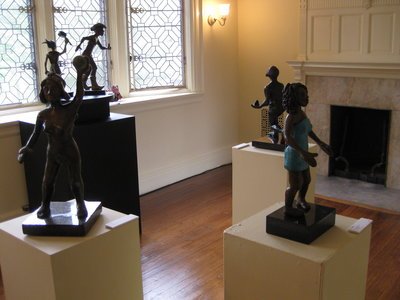 Nestled inside the more than a century-old Bayard Cutting Manor House, the imaginative statues of Mara Sfara conjure the ancient and the modern in the exhibit, "Modern Mythology."
Sfara, an artist from Farmington, Connecticut, created a plethora of statues of Greek gods and goddesses for the exhibit, and arranged them in the annex with complementing paintings of mountains, glaciers, and oceans – what Sfara refers to as "heavenly scenes."
The artist was discovered by Nelson Sterner, Executive Director of the Bayard Cutting Arboretum, who saw Sfara's "Mythology and Magic" exhibit when it was featured at the Mattatuck Museum in Waterbury, Connecticut.
"We had recently renovated the annex with the idea that we would use the space for exhibitions," said Sterner, referring to the upstairs portion of the house that had been closed to the public since the owner of the home, William Bayard Cutting, died in 1912.
Of Sfara's art, he added, "It's great – it's whimsical, and it was a really nice match for us."
In the first room of the "Modern Mythology" exhibit at the Manor House, Canon in D plays softly in the background while visitors step into a room of statues of heroic gods and goddesses, including Hercules, Alexandra, Demeter, and Hestia. The room is designed to reflect the home of the gods, Mount Olympus, with paintings of sublime mountains and glaciers. Though these heroes are typically depicted as images of brazen strength, they are instead portrayed as having conflicting emotions about their duties. A bearded Hercules is seen bending down, desperately trying to carry the weight of the world, while Alexandra, the protector of mankind, is "innocent, and a bit shell-shocked," comments Sfara.
"Myths tell you what you're afraid of, and also what's going on in history," said Sfara. "Here, they are being rewritten."
One particular tale that was rewritten is played out on a turntable, where a statue of Hestia, goddess of the hearth, is seen holding a frying pan high above her head as she chases Aristaeus, who is outfitted in only a cowboy hat and boots.
"Hestia is a domestic goddess," explains Sfara, "and she is not too happy with the cowboy. This is a reversal of men who take advantage of women. It is a new myth where the woman has control."
Sfara's sculptures all have uniquely large hands and feet, which are emphasized because of their importance in the life of the artist, as well as all other humans.
"I make things with my hands, and my feet steady me, so these are two very important parts" said Sfara.
The second room takes visitors underwater into the realm of mermaids and seahorses where the sculptures continue to interact with one another. Here, Sfara built a unique elevator to add movement and dimension to her work. Inside the elevator is a mermaid who, at the touch of a button, rises, lifting a statue of Nyx, the Greek goddess of the night, into the air.
The mermaids and other Greek figures are surrounded by paintings of water, which Sfara finds to be integral to bringing her work to life.
"I love water," she comments. "There is something about water, because we can lose everything else, but life depends on water."
Visitors to the third room of the exhibit are met with a sign that reads "Art in the Garden of Eden," and Sfara truly reaches into her botanical roots to design an environment of spritely goddesses and rich paintings of flowers. Hemera, goddess of the daytime, and Aceso, goddess of healing, are both posed as though they were caught in the middle of a lively dance.
Sfara's exhibit will be featured in the Manor House at the arboretum through July 15th, and the public will be able to view this exhibit during the Manor House guided tours. The are offered every Saturday and Sunday at 12:00 and 1:30pm through July 14th, and are $8 per person. General Admission to the Bayard Cutting Arboretum is $8 per car - please see their website for details.
Photos
Join Our Weekly Newsletter

Sign up for a free weekly newsletter covering things to do, hottest local headlines, and everything Long Island! Read more here or enter your email to signup.