DEC, US Army Corps of Engineers and NYC Department of Parks and Rec to Hold Open House to Discuss Construction of Project on Coney Island
Meeting to Be Held Tuesday, June 10, 2014 from 7 p.m. to 9 p.m.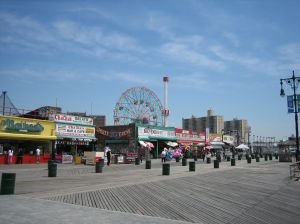 New York, NY - May 30, 2014 - The New York State Department of Environmental Conservation (DEC), the U.S. Army Corps of Engineers (USACE), and the New York City Department of Parks and Recreation (NYC Parks) will host an Informational Open House on Tuesday, June 10 on Coney Island to explain an upcoming $35 million construction project. The primary purpose of the proposed effort is to improve the functioning of the constructed Coney Island Project, which was designed to reduce property damages due to storm surges and waves from the Atlantic Ocean.
Representatives from DEC, the USACE, and NYC Parks will be available at the open house to talk one-on-one with the public, and answer questions about the project and upcoming construction activities. The meeting will be held Tuesday, June 10, 2014 from 7 p.m. to 9 p.m. at the Jewish Community Council of Greater Coney Island (Coney Island Seaside Innovative Senior Center) 3001 West 37th Street, Brooklyn, New York.
"This project will restore and protect the shoreline of the Sea Gate area of Coney Island, which was heavily damaged by Hurricane Sandy," said DEC Commissioner Joe Martens. "Governor Cuomo has been a staunch advocate to secure federal funds to help New York State become more resilient to future storm events, and this project will contribute significantly to the future resiliency of the Coney Island shoreline."
ACOE New York District Commander Col. Paul Owen said, "I am pleased this project will be getting underway shortly as it will help fortify the Corps' existing project and provide additional coastal storm risk reduction measures for residents of Coney Island. The Corps of Engineers is committed to working with our partners and stakeholders at the local, state and federal levels to aid in post-Sandy recovery."
NYC Parks Commissioner Mitchell J. Silver, FAICP, said "This project is the latest example of the City's effort, in partnership with the State and Federal Governments, to address the long term shoreline protection needs for the Coney Island Peninsula."
Daniel Zarrilli, director of New York City's Office of Recovery and Resiliency, said, "Hurricane Sandy highlighted New York City's vulnerabilities to coastal flooding.& In response, the City and its many partners launched a $3.7 billion coastal protection plan as part of a broad resiliency agenda. This project in Sea Gate is an important piece of that comprehensive plan to strengthen the city's coastal defenses and make Southern Brooklyn neighborhoods safer and prepared for the future."
The project at Sea Gate is designed to prevent flanking of the West 37th Street Groin and improve the functioning of the overall Coney Island Project. A groin is a manmade structure that holds in place sand and prevents it from drifting. The Coney Island project was constructed in 1994 and 1995, and generally includes beach fill, a terminal groin at West 37th Street, and a small fillet of sand in Sea Gate. Sand has eroded more than it has accreted in Sea Gate west of the terminal groin since construction of the project. The upcoming work will address this project deficiency. It will consist of the construction of four (4) T-groins, a spur on the West 37th Street Groin and reinforcement of the Norton Point Dike and the West 37th Street Groin. The T-groin compartments will be filled with sand from the Gravesend Bay side of Sea Gate and the dredging of the Rockaway Inlet. Construction is anticipated to begin in September 2014.
Hurricane Sandy severely impacted Coney Island in October 2012. Sea Gate suffered much greater damage than the area fronting the Coney Island Public Beach. The storm resulted in inundation of the entire inland area at Sea Gate up to approximately four to five feet above ground. Storm waves induced run-up, overtopping, overwash, and damage to waterfront structures, including the residential buildings, roads and other infrastructure. In addition, beach erosion caused the shoreline to retreat and the lowering of berm elevations, as well as heavy damage to shoreline bulkheads. There was also extensive flooding at Sea Gate from the bayside through Gravesend Bay and Coney Island Creek.
The Coney Island Project was constructed in 1994 and 1995. During Hurricane Sandy, storm surge and waves crested the design height at the Public Beach, causing shoreline retreat and lowering of the berm, but did not result in complete inundation. The majority of the buildings behind the public beach were protected from wave and erosion impacts, although there was damage to the boardwalk.
Coastal storm risk management projects are designed to strengthen resiliency to reduce potential damages communities may suffer during severe storms and flooding. Beachfill projects reduce coastal storm damages, as was demonstrated at the Coney Island Public Beach, and engineered beaches can prevent or reduce potential impacts, enhancing post-storm community resilience.
Construction will be funded 100 percent by the USACE under the Disaster Relief Appropriations Act of 2013 (the Hurricane Sandy Relief Bill).
Join Our Weekly Newsletter

Sign up for a free weekly newsletter covering things to do, hottest local headlines, and everything Long Island! Read more here or enter your email to signup.