Town of Islip Disrespects Brentwood Residents at Meeting on Toxic Dumping in Local Park
Town Officials Refuse to Let Residents Voice Their Concerns, Fail to Provide Competent Interpretation, says Make the Road New York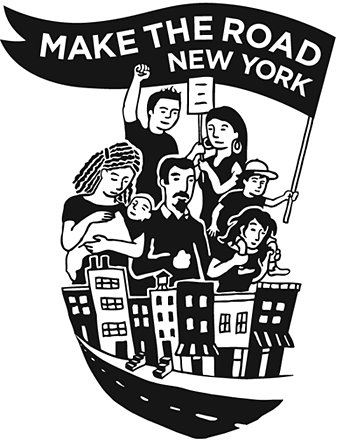 Brentwood, NY - May 21, 2014 - Last night, Town of Islip officials infuriated Brentwood residents by holding a public meeting, focused on the dumping of 32,000 tons of asbestos-ridden waste at Roberte Clemente Park, at which residents' voices were silenced and no competent language assistance services were offered to limited-English proficient residents. At the meeting at Brentwood Recreation Center, Deputy Supervisor Eric Hofmeister, Councilman and Town Parks liaison Anthony Senft, and other town officials refused to take responsibility for the dumping in Clemente Park and other nearby sites, and did not allow residents to ask their questions directly. Many residents responded with anger at having their voices silenced before walking out in frustration.
Furthermore, a group from Make the Road New York denounced the Town for asking limited-English residents to go to the back of the room to speak with an "interpreter" who was not a competent interpreter (she admitted she had primarily been asked to attend to hand out materials). This represented a clear violation of Title VI of the Civil Rights Act, which requires government entities receiving federal funding to provide competent language assistance services to limited-English residents.
County Legislator Monica R. Martinez, Make the Road New York, New York Communities for Change, the Islip Branch of the NAACP issued the following comments regarding the disgraceful public meeting held by the Town of Islip:
Suffolk County Legislator Monica R. Martinez, who represents the district in which the dumping occurred, stated, "As elected officials we swore an oath to serve and protect our constituents. As a public servant, I am appalled by the disrespectful and condescending conduct by the Town of Islip towards the residents of Brentwood and Central Islip last night. The town officials did not even allow me, the County Legislator of the district, to speak-let alone our residents. As Councilman Senft acknowledged on a local public radio program, the Town has neglected the hamlets of Brentwood and Central Islip. We demand to be heard, we have been ignored for too long."
Miriam Elaraby, a member of Make the Road New York, said, "They couldn't even resolve a simple issue like the need to competently interpret for Spanish-speaking residents at a single community meeting. That was something simple, and they swept their failure under the rug. It was both a sign of incompetence and disrespect to the community's needs, and it makes me question whether they can and will take the necessary actions to address the toxic dumping crisis."
Nelsena Day, a member of New York Communities for Change, said, "We are not going to stand to be disrespected by anybody. That includes all of the people at the Town of Islip Board. They must answer all of the questions coming from the community in every language in our community and give us a detailed plan for how our children will have a place to play this summer."
Reverend Roderick Pearson, President of the Islip Town NAACP, said, "The effort by the Town of Islip this evening was insufficient -- so much so that there was an attempt to limit the public from verbalizing all of their concerns. There seems to be an accountability and management deficiency in that the Parks Commissioner is the only one being held responsible. And the lack of language assistance services -- so that the entire community, particularly the Hispanic community, could understand and participate in the meeting -- was an affront to us all."
The above press release was published on behalf of Make the Road New York, and does not necessarily reflect the view of LongIsland.com.
Join Our Weekly Newsletter

Sign up for a free weekly newsletter covering things to do, hottest local headlines, and everything Long Island! Read more here or enter your email to signup.