Flash Flood Watch in Effect for Nassau as Heavy Rains & High Tide Create Potentially Dangerous Conditions
Tonight's high tide is expected to coincide with periods of heavy rains, potentially creating a dangerous situation for Western Long Island.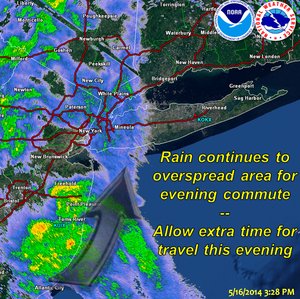 With heavy rains expected tonight into early tomorrow morning, the National Weather Service has issued a Flash Flood Watch and Hazardous Weather Outlook for Nassau County, the five boroughs, and much of the tri-state area. The Flash Flood Watch will stay in effect until 6 AM tomorrow morning. The Hazardous Weather Outlook will stay in effect until further notice.
At 9PM this evening, a Coastal Flood Statement will go into effect for the South Shore for both Nassau & Suffolk County, and stay in effect until 1 AM Saturday morning.
According to the latest NWS Report, a slow moving cold front will move across the area later this evening and throughout the night. Rain will increase in coverage this afternoon, and overnight, with the potential for periods of heavy rain and thunderstorms.
A total of 1 to 2 inches of rain is expected to fall within this timeframe, with localized amounts of up to 3 inches in areas which are experiencing the heavier showers. High Tide of the Atlantic and the western portion of the Long Island Sound coincides with the heaviest rainfall tonight, which could potentially exacerbate flooding along the South Shore of the Island.
A Flash Flood Watch is issued when flash flooding conditions may develop. Flash Flooding has the potential to create a very serious and dangerous situation. The NWS advises that locals that may be effected continually monitor weather updates, and be prepared to take action should the Watch be upgraded to a Flash Flood Warning.
For the most up to date weather information, head over to the LongIsland.com Weather Center, where you can find the latest weather forecasts, advisories and more.
To get the latest traffic & road contitions before heading out, visit the LongIsland.com Traffic Center and check out the live traffic feeds on our Traffic Cam Page.
[Source: National Weather Service.]
Photos via NWS NY's Official Facebook Page.
Photos
Join Our Weekly Newsletter

Sign up for a free weekly newsletter covering things to do, hottest local headlines, and everything Long Island! Read more here or enter your email to signup.