DEC Alters Regulations for Saltwater Fishing
Regulations of fluke (summer flounder) and black sea bass have been altered before the start of fishing season.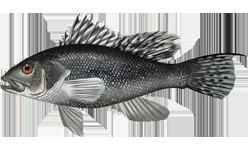 Summer flounder (fluke) - Open season May 17 through September 21; size limit 18 inches TL; possession limit five (5) fish.
Black sea bass - Open season July 15 through December 31; size limit 13 inches TL, not including the tail filament; possession limit eight (8) fish.
No other changes have been made.
Remember that in order to take fish for recreational purposes, you must obtain a Recreational Marine Fishing Registration. See the department's website for more information.
Join Our Weekly Newsletter

Sign up for a free weekly newsletter covering things to do, hottest local headlines, and everything Long Island! Read more here or enter your email to signup.