Long Island Gets Welcome Dose of Sunshine Alongside Heavy Winds
Despite a predicted possibility of light snow, Long Islanders awoke to the welcome sight of clear streets.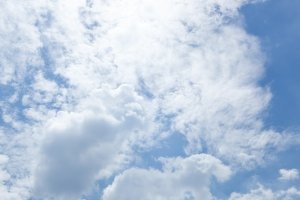 A possibility of snow in the forecast left many Long Islanders who have had enough of winter cringing before bed last night, but despite the gray skies and heavy rainfall there was little of the frozen precipitation to be seen this morning.
After a cloudy start to the day, the sun has begun poking through, and it is expected to remain partly sunny throughout the rest of the day. Highs will only reach about 28°, however, and the National Weather Service has issued a Hazardous Weather Outlook and Wind Advisory through 6 PM due to blustery conditions and strong gusts.
Winds of 20-30 mph will continue to blow, with gusts as strong as 50 mph coming intermittently over the course of the day. The NWS warns that such gusts could knock down weaker trees and limbs, and that they will make travel difficult, especially for high profile vehicles such as SUVs. Scattered power outages may also occur as falling limbs knock into electric lines.
Temperatures will rise again tomorrow, reaching about 40° before they climb further to 47° on Saturday. The NWS is presently predicting to see a dip back into wintry temperatures on Monday when the high is predicted to be around 31°.
For the most up to date weather information, visit the Long Island Weather Center.
[Source: National Weather Service]
Join Our Weekly Newsletter

Sign up for a free weekly newsletter covering things to do, hottest local headlines, and everything Long Island! Read more here or enter your email to signup.