Suffolk County Legislator Robert Trotta's Abstention Vote Highlights a Flawed System
Trotta: I feel that we, as Legislators, have been placed in a "no win" situation."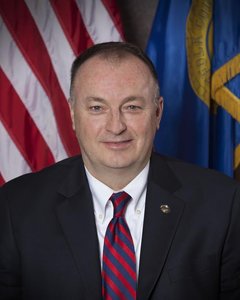 Smithtown, NY - March 5, 2014 - At the March 4 General Meeting of the Suffolk County Legislature, Legislator Robert Trotta abstained from voting on the Superior Officers Association's contract. In explaining his abstention, Legislator Trotta said, "I feel I need to point out that the proposed contract is simply unsustainable and unfair to the taxpayers of this county. When it comes to voting on a contract such as this one, I feel that we, as Legislators, have been placed in a "no win" situation."
This contract, when coupled with existing contracts, is something that this county simply can't afford. "This is clearly evident because the Democratic State Comptroller, in his November 29, 2013 Fiscal Stress Monitoring System, reports that Suffolk County is in worse shape than Nassau County. In the past two years, we had to sell the H. Lee Dennison Building at a taxpayer cost of $108 million dollars, took $33 million from the Sewer Stabilization Reserve Fund and borrowed $151 million to pay pension costs just to, hopefully, balance the last two budgets. Based on this ominous trend, how are we going to pay for the deferred raises in these contracts that may require a potential $120 million dollar payout in three of four years from now?
"We only need to look at Nassau County's situation for what could happen to us and the last thing we need is having all county employees with frozen salaries," said Legislator Trotta.
If I voted yes for this new contract, it would provide members of the Superior Officers Association with a 28.2% pay raise. In comparison, the Association of Municipal Employees, the county's largest union, are receiving a total 9% pay increase over an eight-year period, which is just slightly more than the 8.35% the Superior Officers will receive this year alone.
"This during a time when the median family income for Suffolk County actually fell .05% to $71, 222 from 2000 to 2012 (adjusted for inflation)," according to Dr. Martin Cantor of the Long Island Center for Scoio-Economic Policy.
"If I voted "no" for this contract, we might have ended up in binding arbitration, which, based on past awards, may have cost our taxpayers even more," Trotta added.
Legislator Trotta said, "I am not trying to single out the Superior Officers - this contract is just the latest in a series of law enforcement agreements that have come before this legislative body, but it is the first one that has come before me. I know first-hand the outstanding job that all police officers do and I certainly recognize that they deserve a fair contract that provides for fair increases in line with the cost of living."
When asked to comment, New York State Assemblyman Michael Fitzpatrick of St. James said, "I commend Legislator Trotta for taking the position that he did and understand and respect his concern for the burden that this contract places on the taxpayer. This should highlight the need for reform for binding arbitration."
Join Our Weekly Newsletter

Sign up for a free weekly newsletter covering things to do, hottest local headlines, and everything Long Island! Read more here or enter your email to signup.