Former PTA Treasurer Charged for Cashing More than $5K in Fraudulent Checks
Kathryn Savage, 38, wrote five unauthorized checks from Central Boulevard PTA's checking account.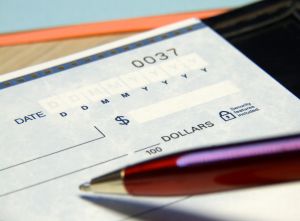 Mineola, NY - March 5, 2014 - Nassau County District Attorney Kathleen Rice announced new charges today against a former Parent-Teacher Association treasurer who cashed, deposited or wrote more than $5,000 in unauthorized checks from her PTA's checking account.

Kathryn Savage, 38, of Bethpage, was arraigned on March 4 on grand jury indictment charges of Grand Larceny in the 3rd Degree (a D felony), four counts of Criminal Possession of a Forged Instrument in the 2nd Degree (a D felony), and 10 counts of Falsifying Business Records in the 1st Degree (an E felony) before Nassau County Court Judge Alan Honorof. Savage was initially arrested in the scheme in September 2013. She faces a maximum sentence of 2-1/3 to 7 years in prison if convicted on the top charge, and is due back in court on March 20.

"Organizations like the PTA depend on people who give their valuable time for the betterment of their communities, but it takes only the dishonest actions of one person to put the good efforts of so many in jeopardy," DA Rice said. "My office will continue to investigate and prosecute these cases to ensure that one bad apple doesn't ruin the bunch."

DA Rice said Savage, then working as treasurer of the Central Boulevard PTA in Bethpage, wrote five unauthorized checks totaling $5,401.20 from the PTA's checking account between April 1, 2013 and May 23, 2013.

Savage wrote the first check made payable to her boyfriend in the amount of $3,581.20. Four subsequent checks were written to cash, endorsed, and either cashed or deposited by Savage. Those checks bore the signatures of Savage and another PTA member without that individual's permission, authorization, or consent.

The discrepancies were discovered during an internal audit of the PTA's bank records by members of the PTA, who then referred the case to DA Rice's office for investigation.

Assistant District Attorney Edward Bradley of DA Rice's Government and Consumer Frauds Bureau is prosecuting the case. Savage is represented by Aida Leisenring, Esq.

The charges are merely accusations and the defendant is presumed innocent until and unless found guilty.
Join Our Weekly Newsletter

Sign up for a free weekly newsletter covering things to do, hottest local headlines, and everything Long Island! Read more here or enter your email to signup.