Winter Storm Titan Veers South, Bringing Just 3-6 Inches of Snow to LI
The National Weather Service has updated their forecast Sunday morning, and only 3 to 6 inches of snow are now expected to hit Long Island, ...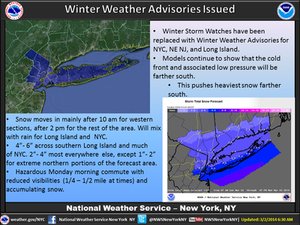 The National Weather Service has issued an updated weather statement after Winter Storm Titan shifted further south, sparing Long Island much of the heavy snow.
As of Sunday morning, the Winter Storm Watch that was in effect for Sunday afternoon until Monday afternoon was downgraded to a Winter Weather Advisory, which will be in effect from Sunday at 6 p.m. to Monday at noon.
Nassau and Suffolk Counties are expected to get 3 to 6 inches of snow between Sunday evening and Monday morning, with most of the snow coming down Sunday night. Southern Long Island has the potential to receive the highest amounts of snow, with 4 to 6 inches expected, but the NWS forecasts that the majority of Long Island will only receive 2 to 4 inches.
The high temperature during the day on Sunday will be around 36 degrees, which will then drop to 20 degrees by the evening. Monday will also be chilly, with temperatures in the low 20s across Long Island. The chilly temperatures are forecasted to remain for most of the week.
Thought there will be less snow, it will still cause hazardous conditions, with visibility down to one quarter to one half of a mile at times. Wind gusts are expected to only reach 25 miles per hour. The Monday morning commute is still expected to be particularly dangerous, so commuters are urged to prepare in advance and to take it slow on their way to work.
Though the storm has been downgraded, be sure to check our School Closings & Delayed Openings page for the most up-to-date information to see how Winter Storm Titan will affect public schools in your area.
For the most up to date weather information, visit the LongIsland.com Weather Center, to find the latest weather forecasts, advisories, and more.
[Source: The National Weather Service]
Photo via the National Weather Service
Join Our Weekly Newsletter

Sign up for a free weekly newsletter covering things to do, hottest local headlines, and everything Long Island! Read more here or enter your email to signup.