Cold Wakeup Call – Temperatures Drop and More Snow Predicted
After a warm weekend, snow is once again likely to fall on Wednesday.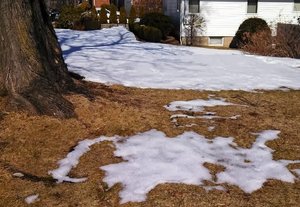 Long Island had a nice tease of spring as the sun shined and temperatures broke 50° over the weekend, but as temperatures dip back down to the mid 30's today locals are reminded that the Island still remains very much in the grasp of winter.
Even as grass begins to poke through the white blanket which has covered the land as one winter storm after another has dropped several feet of snow this year, another storm approaches to replace some of that which melted last week.
With a high of 32° expected on Wednesday, snow is predicted to accumulate during a morning storm which could hit the area between midnight and noon. As of 12 PM on Monday, the NWS was predicting a 60% chance of snow during that period; fortunately accumulation is only believed to amount to 1-2 inches for most of Long Island, with an additional inch possible on the East End.
The low totals will hopefully prove only a minor inconvenience during the morning commute, and could provide towns ample time to clean up before workers set out to return home in the evening. A high of 37° is presently expected for Thursday, and Friday will drop down to 28°.
For the latest weather updates, visit the Long Island Weather Center.
Find out what to expect on the road before you head out with the Long Island Traffic Map, and check for delays on the LIRR before heading to the train station.
[Source: NWS]
Join Our Weekly Newsletter

Sign up for a free weekly newsletter covering things to do, hottest local headlines, and everything Long Island! Read more here or enter your email to signup.