Select Hot Pockets Products in Hot Water, Regulators Say Recalled Meat Unfit for Human Consumption
By Wendy L Published: February 19 2014
After a recall of 8.7 million pounds of beef products last week, it turns out some of it was used in the production of select ...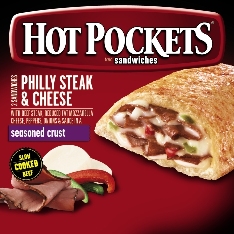 Last week, Rancho Feeding Corp., a California firm recalled 8.7 million pounds of beef product. Unfortunately some of the meat recalled was used at Nestle's Chatsworth, Calif. production operation for the production of its Hot Pockets products.
Two varieties of Hot Pockets are being removed from the marketplace, according to a Nestle press release issued on Tuesday. The voluntary recall impacts its Philly Steak and Cheese Hot Pockets in three sizes and its Croissant Crust Philly Steak and Cheese flavor in the two-pack box.
The recalled Hot Pockets were distributed nationwide.
According to the United States Department of Agriculture (USDA), a recall on the meat was issued because Rancho Feeding Corp. "processed diseased and unsound animals and carried out these activities without the benefit or full benefit of federal inspection."
Regulators found the meat unfit for human consumption.
Nestle has indicated "a small quantity of meat from Rancho was used" for the production of its Hot Pockets products.
The USDA has also reported no illnesses have been reported in relation to the meat recall.
Anyone who has purchased the recalled Hot Pockets products may return it to the place of purchase for a full refund or by contacting Nestle Consumer Services at (800) 392-4057. The batch code for the recalled Hot Pockets is available on Nestle's press release.
Photo Courtesy of Nestle.
Join Our Weekly Newsletter

Sign up for a free weekly newsletter covering things to do, hottest local headlines, and everything Long Island! Read more here or enter your email to signup.