Teacher and School Leader Effectiveness Grants Announced by Department of Education
Grants will help high-needs schools recruit and retain effective educators.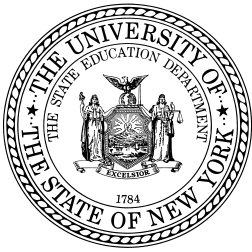 Albany, NY - February 18, 2014 - State Education Commissioner John B. King, Jr. today announced that forty-two school districts and charter schools and eight consortia (which include thirty-eight component districts) have received preliminary grant award notification totaling approximately $24.2 million for the Strengthening Teacher and Leader Effectiveness (STLE) 3 Program. Final grant awards are contingent on the review and approval of the Office of the State Comptroller. These grants represent the third and final phase of the STLE grant program.
"STLE grants are focused on developing and supporting effective teachers and school leaders," said Board of Regents Chancellor Merryl H. Tisch. "We're raising the standards for our students. If they're going to meet those standards, we have to ensure that every classroom is led by an effective teacher and every school is led by an effective principal. Nearly 150 districts, charters and consortia have been awarded STLE grants, and those grants mean they're moving forward to implement the higher standards. The grants will help make that implementation a success."
"This is about supporting our educators and helping our students succeed," King said. "Districts across the state are already using the STLE grant to successfully develop and support effective educators. Research shows the best way to help students succeed is to have effective teachers and principals in every school building. The STLE grants are an important part of our implementation of the higher standards we've set for our students. The grants will help more students graduate from high school ready for college and careers."
STLE 3 grants are targeted to support school districts and charter schools utilizing a comprehensive approach to recruitment, development, support, retention and equitable distribution of effective teachers and school leaders as part of their implementation of an Annual Professional Performance Review (APPR) plan.
Public school districts and public charter schools with at least 25 percent of students from low-income families and that have an approved APPR plan as required by Education Law §3012-c were eligible for the STLE 3 grants.
Some of the STLE 3 initiatives in the awardees' plans include:
Opportunities for advancement:

The development/implementation of Career Ladder positions for both teachers and leaders including: Instructional Coaches, Content-Area Mentors, Administrator Mentors, Common Core Development leaders, Data Coaches and APPR Liaisons

Individualized support for new and early career educators:

Utilizing Highly Effective Teacher and Principal Leaders as peer coaches to provide differentiated support and mentoring

Partnerships with Institutes of Higher Education and Teacher Centers:

Targeted professional development and support in specialized areas such as data driven instruction, STEM initiatives, students with disabilities and English Language Learners

Opportunities for continued education/dual certification in high need subject areas, often in exchange for hosting and mentoring student teachers and aspiring principals

Differentiated ongoing support for teacher and/or leader effectiveness:

Ongoing training provided around the Common Core Learning Standard instructional shifts and/or modules

Supporting teachers seeking National Board Certification

Establishment of Professional Learning Communities

Engagement of parents and/or community stakeholders by offering workshops in specific areas (e.g., Common Core, APPR)

Leading or management of district-wide curriculum and/or assessment development team(s)

Certification/re-certification as Lead evaluator and/or evaluator for administrators across the district
This is the third and final cohort of the Race to the Top funded STLE grant. To learn more about the STLE grant program and the awardees, visit http://www.engageny.org/resource/improving-practice. The STLE grants and activities are supported, in whole or part, by New York State's Race to the Top federal funds.
Below are reflections from some previous STLE grantees:
Ogdensburg City School District:
"Having been awarded the STLE Grant in 2013 has allowed our district to formulate a Teacher Leadership Team to assist in a shared-decision making process throughout our implementation of the ELA and Mathematics Modules. District lead teachers will continue to work collaboratively by grade level and subject matter to successfully implement not only the Common Core Curriculum, but also best practice teaching strategies to support higher order learning. The grant has also afforded our district the opportunity to purchase the services of highly effective educators within our region to serve as Math and ELA Coaches/Consultants. These consultants continue to support our teachers and students during this major transition. Although we believe any curriculum needs to be continuously evaluated and modified, we support this transition to a more rigorous academic program. The funding provided by the STLE Grant has been invaluable to our efforts of properly providing staff development and support our teachers and principals." - Kevin Kendall, Director of Curriculum, Instruction and Assessment
Binghamton City School District:
"The Binghamton City School District is very appreciative of the STLE Grant opportunity. It has helped us to implement our APPR plan and recognize the talent and strength within our teacher leaders and administrators. It has additionally supported our efforts to provide an environment of continuous professional learning throughout the district." - Tonia Thompson, Assistant Superintendent for Curriculum, Instruction & Accountability
Fort Ann Central Schools:
"The Teacher Leader program has allowed Fort Ann Central School to refocus its energy where it is needed most. We have restructured our school day to allow teachers to be better able to plan, coordinate and communicate with each other more effectively. Teacher leaders have taken the lead in training all staff on the Common Core Learning Standards and shifts, and providing mentorship to new and improving teachers across the district. These structures and supports have made the implementation of the new standards easier and the new APPR guidelines easier to navigate." -Nikki Huskie, Teacher Leader
Greece Central School District:
"It's been awe-inspiring to see what has come from this grant program. With our partnership with the New York City Leadership Academy, we were able to develop a rigorous research-based high quality professional development curriculum for our entire district leadership, including our Teacher Leaders. I now see 26 Teacher Leaders able to extend their reach well beyond their own classrooms, to share their expertise by leading staff meetings and by facilitating professional development for their colleagues. I see our administrators embracing this new rung on the career ladder and the notion of distributive leadership. Teacher Leaders are helping administrators diffuse the wealth of knowledge and experience gained from our Leadership Academy to all of Greece." - Sheila B. Robinson Kohn, STLE Grant Coordinator
Join Our Weekly Newsletter

Sign up for a free weekly newsletter covering things to do, hottest local headlines, and everything Long Island! Read more here or enter your email to signup.