NWS Upgrades Winter Storm Watch to Warning - Pax Expected to be "Significant Storm"
Heavy wet snow will start at 3 a.m. Thursday, with a snowfall rate of 1-2 inches per hour that will make for a hazardous morning ...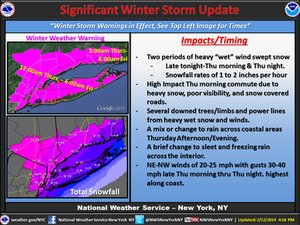 Late this afternoon, the NWS upgraded the Winter Storm Watch for Pax to a Winter Storm Warning, which will go into effect at 12 AM, and stay in effect on Thursday, until 6 AM this Friday. The National Weather Service is expecting this to be a "significant storm." Wet snow will be falling at a rate of 1 to 2 inches per hour late Wednesday night through Thursday morning, and then again Thursday night, with predicted snowfall totals ranging from 6 to 10 inches, along with a small amount of ice.
Winter Storm Pax is expected to have a significant impact on the morning commute, with poor visibility and snow-covered roads. More downed trees and power lines are also expected to follow, as the snow will be wet and heavy, similar to the last winter storm that hit Long Island.
"As we have done in previous storms this season, the State is directing necessary resources to the areas in greatest need, and we will be flexible in our ability to redirect equipment and personnel as the storm reaches the state," said Governor Andrew Cuomo in a release. "I urge all New Yorkers to take appropriate steps to prepare for the storm, check on their families and friends, particularly the elderly and vulnerable, and to avoid any unnecessary travel. The best way to stay informed is to pay attention to local media outlets and heed any advice from local professional emergency management personnel."
PSEG Long Island has announced that they have all available crews ready to respond to the storm. They recommend that to prepare for the chance of a power outage, homes should be stocked with bottled water, non-perishable food, flashlights and extra batteries, a first aid kit, matches and candles, extra blankets and sleeping bags, and a written list of important phone numbers, including PSEG Long Island's emergency service/outage hotline: 1-800-490-0075. Power outages can also be reported by cellphone by texting "OUT" to PSEGLI (773454). Also, if there is a downed wire in your area, always assume it is live, and call 1-800-490-0075 to tell PSEG Long Island the nearest cross street.
Although few schools have announced closures or delays as of 5:30 p.m., it can be expected that the hazardous conditions brought on by more wet snow and rain could force schools to shut their doors. Be sure to check our School Closings & Delayed Openings page for the most up-to-date information regarding public schools in your area.
For the most up to date weather information, visit the LongIsland.com Weather Center to find the latest weather forecasts, advisories, and more.
[Source: The National Weather Service]
Photo via the National Weather Service's Official Facebook Page.Video via the NWS NY Official YouTube Page.
Photos
Videos
Join Our Weekly Newsletter

Sign up for a free weekly newsletter covering things to do, hottest local headlines, and everything Long Island! Read more here or enter your email to signup.