NCPD: Three People Arrested for Criminal Possession of a Weapon
Three people were arrested in Brookville/New Cassel in connection to a criminally possessed weapon.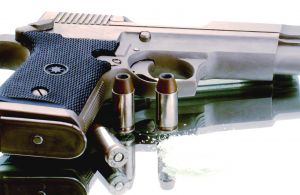 Brookville, NY - February 12, 2014 -The Third Squad reports the arrests of three people for Criminal Possession of a Weapon that occurred in New Cassel/Brookville on Tuesday, February 11, 2014 at 5:15 pm.
According to detectives, the defendant Ryan P. Oliverio, 16, of 5 Hunters Lane, Levittown was walking on Frost Street and Old Country Road in New Cassel when Third Precinct Police Officers observed what appeared to be a handgun sticking out of his pocket. Police conducted an investigation and Oliverio was found to have in his possession a loaded .380 caliber handgun without a license and 15 small and 3 medium clear bags that contained a greenish brown leafy substance believed to be marijuana. During the investigation the defendant also admitted that on February 8, 2014 he had sold a .32 caliber handgun without a license to defendant David J. Yablans, 17, of 1610 Old Cedar Swamp Road, Brookville for an undisclosed amount of US currency. Oliverio was then placed into police custody without incident. At 9:40 pm Third Precinct Police then went over to the residence of defendant Yablans to recover the gun that he was in possession of. When police arrived there David Yablans admitted to having the gun but said his mother defendant Linda Yablans, 51, of 1610 Cedar Swamp Road took it away from him. Defendant Linda Yablans assisted investigating Police Officers in opening a safe where the illegal handgun was kept. Upon opening the safe she failed to follow orders not to touch any contents and step away from the safe. Linda Yablans lunged forward and grabbed the handgun causing officers to struggle with her to remove the handgun from her hand. She was then placed into custody.
Ryan Oliverio is charged with Criminal Possession of a Weapon 2nd Degree, Sale of a Firearm 3rd Degree, and Criminal Possession of Marijuana 5th Degree. David Yablans is charged with Criminal Possession of a Weapon 4th Degree. Linda Yablans is charged with Criminal Possession of a Weapon 4th Degree and Obstructing Governmental Administration 2nd degree.
All Three defendants will be arraigned in First District Court in Hempstead on Wednesday, February 12, 2014.
Join Our Weekly Newsletter

Sign up for a free weekly newsletter covering things to do, hottest local headlines, and everything Long Island! Read more here or enter your email to signup.