LIRR's Largest Union Unanimously Votes to Go on Strike in March
If demands are not met, the Long Island Rail Road's Sheet Metal, Air, Rail and Transportation Union plans to go on strike in March, thus ...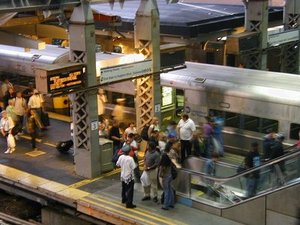 The largest union of workers for the Long Island Rail Road, the Sheet Metal, Air, Rail and Transportation Union, or SMART Union, voted Wednesday night 500-0 to go on strike until their wage demands are met.
The SMART union represents 2,700 LIRR employees, including conductors, train mechanics, and cleaners. The walkout is expected to take place on or after March 21, which will potentially leave thousands of LIRR commuters stranded. MTA officials are still making attempts at mediation to prevent the strike.
This is not the first time the LIRR has had trouble with its parent company, the MTA. Over 6,000 LIRR workers have been working without a contract for three years. The MTA is also pushing for an additional three-year wage freeze for all of its workers unless pay increases are offset by savings due to increased productivity.
According to a press release by the SMART union, board members were pushing for a contract in which LIRR wages would increase 18.4 percent over six years, and that employees would begin contributing towards health insurance premium costs. After considering the contributions to health insurance, the net wage increase per year would be about 2.5%, and the wage recommendations would be retroactive to the first year of the contract dispute.
"Due to the MTA's unwillingness to accept the recommendations of PEB 244, and without their request for a second board, our labor coalition is prepared to strike as early as March 21. While we have said time and time again that this is not what labor wants for the riders at the MTA, it will be the sole result of the MTA's unwillingness to take the next step" said the union's general chairman, Anthony Simon, in a release on the union's website.
MTA Spokesman Adam Lisberg played down the announcement of the strike as "a routine procedural step in the absence of a new agreement," according to New York Daily News.
[Source: United Transportation Union, New York Daily News]
Join Our Weekly Newsletter

Sign up for a free weekly newsletter covering things to do, hottest local headlines, and everything Long Island! Read more here or enter your email to signup.