Super Bowl Snow: 4-6 Inches Predicted for LI Sunday Night Through Monday Morning
Despite the predictions of LI's local groundhogs, we can expect a wet, wintery mess here on Long Island tomorrow morning.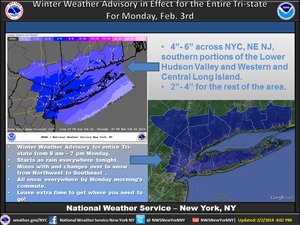 Although Long Island's resident groundhogs Holtsville Hal and Malverne Mel predicted an early end to winter this year, it looks as though Long Island is not quite out of the woods yet when it comes to winter weather. The National Weather Service has issued a Winter Weather Advisory and Hazardous Weather Outlook for Long Island, which will go into effect tomorrow morning at 5 AM, and stay in effect until 7 PM Monday evening. Although the weather has been quite mild for the majority of Sunday, conditions will begin to shift later this evening.
The tri-state area can expect winds this evening of 5 to 10 MPH, increasing to 10 to 15 MPH Monday morning. Temperatures will be in the mid-30s this evening, and drop down into the low 30s tomorrow morning. Starting at about midnight, a mix of freezing rain and snow will begin to fall, and Monday morning we can expect the wintery mix to turn into slow. The snowfall will begin to taper off throughout the afternoon and into the evening from West to East – Long Island can expect from 4 to 6 inches of snow.
This evening's wintery mix and early morning snow have the potential to create dangerous driving conditions, including low visibility (of 1/2 a mile or less) and slippery roadways. Travelers are urged to take caution, and stay alert when on the roads. Before you get ready to hit the road, be sure to visit LongIsland.com's Traffic Camera Center, where you can view local road conditions in real time.
Although no delays or closings have been announced as of yet, you can get the latest updates on School Closures for Long Island right here.
For the most up to date weather information, visit the LongIsland.com Weather Center, where you can find the latest weather forecasts, advisories, and more.
[Source: National Weather Service.]
Photo via the National Weather Service's Official Facebook Page.
Photos
Join Our Weekly Newsletter

Sign up for a free weekly newsletter covering things to do, hottest local headlines, and everything Long Island! Read more here or enter your email to signup.