Christie Appointee Claims Governor Knew of GWB Lane Closures
Governor continues to deny allegations of knowledge of the incident.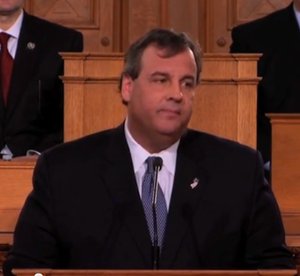 A former Port Authority appointee of Chris Christie recently stated that the New Jersey Governor knew about the lane closures at the George Washington Bridge as they were happening. Since the scandal broke, Christie has continued to deny having any knowledge of the intentional traffic tie-ups.

David Wildstein claims otherwise, saying that he has proof that Christie knew about the lane closures. Neither Wildstein nor his attorney have stated what exact evidence they have of Christie's knowledge.

Wildstein was the person who received an e-mail from former Christie staffer Bridget Ann Kelly that said "time for some traffic problems in Fort Lee." Both Wildstein and Kelly have stepped down since the scandal broke.

"Evidence exists... tying Mr. Christie to having knowledge of the lane closures, during the period when the lanes were closed, contrary to what the governor stated publicly in a two-hour press conference," Wildstein's attorney state in a letter, according to CBS News.

Christie stated that he had no knowledge that the lane closures were intentional, and that he was told they were for a traffic study.

"Mr. Wildstein's lawyer confirms what the governor has said all along – he had absolutely no prior knowledge of the lane closures before they happened and whatever Mr. Wildstein's motivations were for closing them to being with," a Christie spokesperson stated.

State Assemblyman John Wisniewski (D) is the chairman of the association investigating the lane closures. He has asked why the documents linking Christie to the lane closures have not been produced.

Christie is also facing other recent allegations that he threatened to withhold Hurricane Sandy relief funds from Hoboken mayor Dawn Zimmer. Zimmer stated that Christie's office would not give her Sandy funds unless she backed a project that the mayor was in favor of.

An investigation into the Fort Lee lane closures is still ongoing.

[Source: CBS News]
Join Our Weekly Newsletter

Sign up for a free weekly newsletter covering things to do, hottest local headlines, and everything Long Island! Read more here or enter your email to signup.