Nassau Crime Stoppers Seek Information on Robbery
A man was robbed at gunpoint outside a Hempstead restaurant.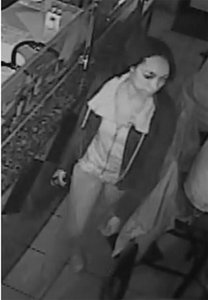 Hempstead, NY - January 23, 2013 - Crime Stoppers and the Nassau County Police Department are seeking the public's help with identifying the unknown subject pictured right. The subject is wanted in connection with a Robbery that occurred in Hempstead, New York.
On Saturday November 9th, 2013 at approximately 7:45 PM, the unknown black female subject pictured above sat down next to a male victim inside the El Jalapeno Restaurant located at 114 N. Franklin Street in Hempstead. The subject asked the victim if he wanted to go to a hotel. The victim followed the subject to the parking lot, and entered her vehicle. A second black male subject then opened the vehicle door, hit the victim in his face, pointed a gun at him, took his wallet, and fled the scene.
Crime Stoppers is asking anyone who can identify the subject, or anyone with any information about this case to call our toll free hotline: 1-800-244-TIPS (8477).
Join Our Weekly Newsletter

Sign up for a free weekly newsletter covering things to do, hottest local headlines, and everything Long Island! Read more here or enter your email to signup.