Legislator Monica R. Martinez Introduces Members of her Staff
Several members of the legislator's staff have been introduced.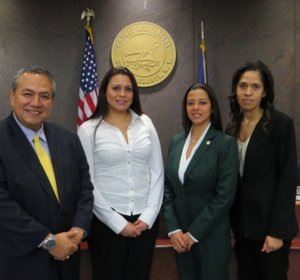 Central Islip, NY - January 14, 2014 - Legislator Monica R. Martinez introduces her appointed staff who will join her in aiding and assisting the constituents of the 9th Legislative District. Legislator Martinez and her staff of three are experts in community affairs and are ready to serve the communities of Brentwood, Central Islip and North Bay Shore.
The legislator's staff includes; Lisa Pinkard as Chief of Staff, a certified paralegal who has served the constituents of this community in the capacity of a community organizer and also Central Islip's campaign manager to Congressman Steve Israel. Also joining are Legislative Aides Vanessa Zepeda and Luis Montes‐Brito. Her staffers are all part of the community and as such, are aware of the districts strengths and weaknesses. Legislator Monica R. Martinez and her team will work diligently to better the LD9 community.
The office of Legislator Martinez and Staff can be reached at their temporary location: Court House Corporate Center, 320 Carleton Avenue, Suite 4300, Central Islip, NY 11722 or by phone: (631) 853‐3700, Fax: (631) 853‐ 3568. You may also reach them via Email:
Join Our Weekly Newsletter

Sign up for a free weekly newsletter covering things to do, hottest local headlines, and everything Long Island! Read more here or enter your email to signup.