NCPD Looking for Attempted Bank Robber
A Valley Stream bank was held up at the end of December.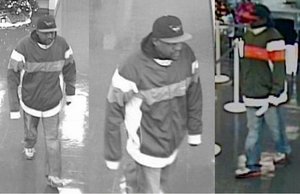 Valley Stream, NY - January 7, 2013 - TIME & PLACE OF OCCURRENCE: Saturday, December 28, 2013 at 11:45 AM at Dime Savings Bank located at 175 West Merrick Rd., Valley Stream.
SUSPECT: Male Black, 30 years old, 5'10"-6'0" tall, dark complexion, stocky build, dark colored jacket with large orange and white stripes, black hoodie, black Baltimore Orioles' baseball cap, and blue jeans.
FURTHER DETAILS: Subject entered place of occurrence, approached teller and presented a robbery demand note. The subject fled from scene, on foot, Northbound from the bank, without any proceeds. For further information contact the Nassau County Police Department Robbery Squad at 516-573-8040.
Authority: Detective Sergeant John Giambrone, refer to Robbery Squad Number 1030-13.
Join Our Weekly Newsletter

Sign up for a free weekly newsletter covering things to do, hottest local headlines, and everything Long Island! Read more here or enter your email to signup.