Things To Do » Mini Golf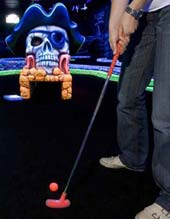 Not quite ready to go pro? Luckily, there's still a way for you to score a hole-in-one! Whether you're out with the kids, or looking for a fun date night – mini golf is the sport than anyone and everyone can enjoy. With its whimsical courses and scenery, and easy to learn putting, miniature golf is truly a sport for all ages. The ease of learning how to put a golf ball makes this game fun for everyone – even on their first try! It also challenges returning players to improve their skill, and brings out a fun sense of competitiveness among friends and family alike. From wild windmills, scenic waterfalls, vertical drops, hills, and more – there's always a new challenge around the corner on the course, so prepare for the challenge, and get ready to hit a hole in one!
655 Medford Avenue in Medford
631-475-1771
490 W John St in Hicksville
516-571-7061
570 ROCKAWAY TURNPIKE in Lawrence
516-239-1743
Want to be added to the Mini Golf Page? Call 631-406-4410 or
Email Us
for details!
Stories You Might Be Interested In
Boston Celtics legend Bill Russell along with Wall Street leader Geoff Boisi ...

Friday January 27, 2012 WHO/WHAT: Fuel INFO: American rock band Fuel ...




Indoor play areas are great on sweltering Summer days, rainy days or ...

Have fun with these local events on Long Island!