Home » Things To Do » Mini Golf
Long Island Mini Golf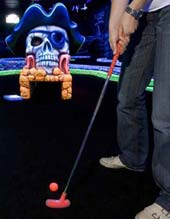 Not quite ready to go pro? Luckily, there's still a way for you to score a hole-in-one! Whether you're out with the kids, or looking for a fun date night – mini golf is the sport than anyone and everyone can enjoy. With its whimsical courses and scenery, and easy to learn putting, miniature golf is truly a sport for all ages. The ease of learning how to put a golf ball makes this game fun for everyone – even on their first try! It also challenges returning players to improve their skill, and brings out a fun sense of competitiveness among friends and family alike. From wild windmills, scenic waterfalls, vertical drops, hills, and more – there's always a new challenge around the corner on the course, so prepare for the challenge, and get ready to hit a hole in one!
Want to be added to the Mini Golf Page? Call 631-406-4410 or
Email Us
for details!
Stories You Might Be Interested In
Partnership Will Promote NY Made Products and Tourism Destinations to a Worldwide ...

Planning a wedding is an exciting opportunity to express yourself, and you ...




Boston Celtics legend Bill Russell along with Wall Street leader Geoff Boisi ...

Motorola, the producer of the first American-made smartphone, has a few other ...