Things To Do » Mini Golf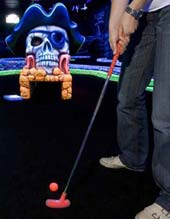 Not quite ready to go pro? Luckily, there's still a way for you to score a hole-in-one! Whether you're out with the kids, or looking for a fun date night – mini golf is the sport than anyone and everyone can enjoy. With its whimsical courses and scenery, and easy to learn putting, miniature golf is truly a sport for all ages. The ease of learning how to put a golf ball makes this game fun for everyone – even on their first try! It also challenges returning players to improve their skill, and brings out a fun sense of competitiveness among friends and family alike. From wild windmills, scenic waterfalls, vertical drops, hills, and more – there's always a new challenge around the corner on the course, so prepare for the challenge, and get ready to hit a hole in one!
490 W John St in Hicksville
516-571-7061
1 Fairway Drive in Port Washington
516-767-4816
2400 Ocean Parkway in Wantagh
516-785-1600
1716 Country Road 58 in Riverhead
631-208-9397
30 Hanson Place in Sayville
631-218-6952
1024 Broadhollow Road in Farmingdale
631-694-4666
3 Ram Island Road in Shelter Island
631-749-1839
Want to be added to the Mini Golf Page? Call 631-406-4410 or
Email Us
for details!
Stories You Might Be Interested In
Suffolk County Legislator Sarah Anker attended the Suffolk County Community College 32nd ...

Nassau County Executive Edward P. Mangano and County Legislator Denise Ford today ...




There's no time for the summertime blues - this bucket list will ...

Spring into Fun this April with Festivals, Carnivals, Easter Brunches and more ...