Monty Man II Fishing Charters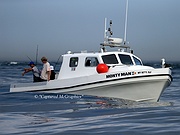 Thinking about heading Out East for a day of great fishing? Why not let set sail with Monty Man II Fishing Charters of Orient Point - expert owner Captain Jim knows just where to go to catch some great fish! Long Island's waters are filled with a variety of fish including striped bass, fluke, sea bass, and porgies, and with his years of experience, Captain Jim knows just where to take you to have the best chances of hooking one. The Monty Man II offers a wide variety of trip options, including full day trips, half day trips, and evening excursions! Their boat can accommodate from 1 to 6 passengers - perfect for a quiet day of relaxation on the water, or a day of fun in the sun with friends or family!
If you're ready to indulge in one of Long Island's most beloved traditions and spend the day fishing, give Captain Jim a call today, and get ready to hook your next big catch!