Nassau & Suffolk Long Island, NY
Phone: 1-888-909-2822
Adelphi University 1 South Avenue Garden City - 11530
Phone: 1-888-909-2822
Jericho Jewish Center 430 North Broadway Jericho - 11752
Phone: 1-888-909-2822
Shelter Rock Church 626 Plandome Road Manhasset - 11030
Phone: 1-888-909-2822
Temple Beth Am Merrick 2377 Merrick Avenue Merrick - 11566
Phone: 1-888-909-2822
First Presbyterian Church 79 East Main Street Babylon - 11702
Phone: 1-888-909-2822
Centerport United Methodist Church 97 Little Neck Road Centerport - 11721
Phone: 1-888-909-2822
Commack Jewish Center 83 Shirley Court Commack - 11725
Phone: 1-888-909-2822
Temple Beth El 660 Park Ave. Huntington - 11743
Phone: 1-888-909-2822
Our Lady of Wisdom Regional School 114-116 Myrtle Avenue Port Jefferson - 11777
Phone: 1-888-909-2822
St. Ann's Episcopal Church 257 Middle Road Sayville - 11782
Phone: 1-888-909-2822
First Presbyterian Church 175 E. Main Street Smithtown - 11787
Phone: 1-888-909-2822
Stony Brook University 100 Nichols Road Stony Brook - 11794
Phone: 1-888-909-2822
The Church of St. Jude 3606 Lufberry Avenue Wantagh - 11793
Send an Inquiry to Destination Science
Destination Science
Nassau & Suffolk Long Island, NY

Other Locations
Phone: 1-888-909-2822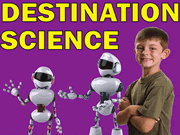 Destination Science kids enjoy those "Aha!" moments -- figuring out how something works, or realizing that science and cooking go hand in hand. From roller coasters to robots from sunshine to sound. We provide a fun, safe, and unique environment for exploration. STEM (science, technology, engineering and math) learning is more important than ever before. In fact, it's a national movement. Start your child's journey this summer by heading toward Destination Science!
Our four week-long programs are bursting with innovative, imaginative and unexpected science adventures for boys and girls ages 5-11.

The Ultimate Survival Zone
Use super cool science to create and train your very own electric powered walking chameleon...one of nature's most awesome survivors.
Astronaut Adventure Camp
Calling all future Astronauts & Adventurous Explorers! Space the final frontier is now open to everyone!
Wacky Mega-Bot Tech
Introducing our biggest bot ever, standing over 12 inches high & able to rollover obstacles using its powerful rubber treading.
Crazy Coaster Science & Sea-fari Park
Destination Science is going vertical! Welcome to our Fun Park, where you become a crazy coaster scientist! Each day you build and experiment with your very own extreme gravity defying roller coaster that you take home.

5 Locations in Nassau County

Adelphi University
1 South Avenue
Garden City, NY 11530

Jericho Jewish Center
430 North Broadway
Jericho, NY 11753-2114

Shelter Rock Church
626 Plandome Rd.
Manhasset, NY 11030

Temple Beth Am Merrick
2377 Merrick Avenue
Merrick, NY 11566-4320

The Church of St. Jude
3606 Lufberry Avenue
Wantagh, NY 11793-3031

8 Locations in Suffolk County
First Presbyterian Church
79 E. Main Street
Babylon, NY 11702

Centerport United Methodist Church
97 Little Neck Rd.
Centerport, NY 11721

Commack Jewish Center
83 Shirley Court
Commack, NY 11725

Temple Beth El
660 Park Ave.
Huntington, NY 11743

Our Lady of Wisdom Regional School
114-116 Myrtle Avenue
Pt. Jefferson, NY 11777

St. Ann's Episcopal Church
257 Middle Road
Sayville, NY 11782

First Presbyterian Church
175 E. Main Street
Smithtown, NY 11787

Stony Brook University
Stony Brook Union Bldg.
100 Nichols Road
Stony Brook, NY 11794
Payment Option
American Express, MasterCard, Discover, Visa, Cash, US Currency