Long Island Bus Schedules
Home » Transportation » Bus Stops & Stations » LI Bus Schedules
No matter where you're headed, Long Island's public buses can get you where you need to go - in both Nassau and Suffolk County! Hopping on a bus is a great way to travel affordably and efficiently across Long Island, and it also helps put an ease on commuter traffic. Many of the local buses also make stops as train stations and other public transit hubs - allowing you to get where you're going on time, without the hassle of maintaining your own car, or having to ask for a ride. With gas prices ever-rising on Long Island, utilizing our efficient public transport is a great way to save while you travel!
***Please note that as of Sunday, January 17th the Nassau Inter-County Express will be eliminating several routes. The N2/8, N14, N17, N46, N50, N51, N62, N73, N74, N80, and N81 lines will no longer be running after Saturday, January 16th.
Additionally, the N19 line will now start and end at the Sunrise Mall, and will no longer travel eastbound to Babylon. N19 riders traveling east are advised to take the SCT's S20 line for trips to Babylon.
The N20/21 line is also being restructured to accommodate heavy traffic in the Flushing region. Beginning January 17th there will be two legs of the route: the N20 G, which runs from Flushing to Great Neck, and the N20 H, which runs from Great Neck to Hicksville. The N21 will no longer travel to Flushing, instead running from Great Neck to Glen Cove only. Weekend service on the N21 is being restored.***
Suffolk County Bus Schedules

Click on A Suffolk bus route number below to view schedule...


S1

Amityville Railroad to Halesite

S20

Babylon Railroad to Sunrise Mall

S23

Babylon Railroad to Walt Whitman Mall

S25

Babylon Railroad to Northwest Babylon

S27

Babylon Railroad to Hauppauge

S29

Babylon to Walt Whitman Mall

S31

Copiague to Northwest Babylon

S33

Sunrise Mall, Amityville to Hauppauge

S35

South Bay Shopping Center to Crown Manor

S40

Babylon Railroad to Patchogue

S41

Bay Shore to Northport V.A. Medical Center

S42

Babylon Railroad to Central Islip Railroad

S45

Bay Shore to Smithtown

S47

Babylon Railroad to Robert Moses State Park (Summer Service)

S54

Patchogue Railroad to Walt Whitman Mall

S56

Commack to Smith Haven Mall via Kings Park

S57

Sayville to Smith Haven Mall via L.I. MacArthur Airport

S58

East Northport to Riverhead County Center

S59

Sayville to Smith Haven Mall

S60

Smith Haven Mall to Gordon Heights

S61

Patchogue Railroad to Port Jefferson

S62

Hauppauge to Smith Haven Mall, Riverhead

S63

Patchogue Railroad to Smith Haven Mall

S66

Patchogue to Riverhead

S68

Patchogue to Center Moriches

S69

Night Loop (Smith Haven Mall, SUNY Stony Brook, Port Jefferson)

S71

Shirley to Stony Brook Railroad

S76

Stony Brook Village to Port Jefferson Station

S90

Center Moriches to Riverhead County Center

S92

Orient Point, Greenport to East Hampton Railroad via Riverhead

S94

Montauk Village to Montauk Pt. Lighthouse (Summer Service)

1A

Amityville Loop

1B

Copiague to Lindenhurst Railroad

2A

Wyandanch to South Shore Mall

2B

East Farmingdale, Wyandanch to Bay Shore

3A

South Shore Mall to West Brentwood, Hauppauge

3B

Gardiner Manor Plaza to East Brentwood, Hauppauge

3C

Central Islip to South Shore Mall

3D

Brentwood Railroad to Stony Brook Railroad

5A

Port Jefferson to Middle Island

6A

Ronkonkoma Railroad to Coram

6B

Farmingville to Smith Haven Mall

7A

Patchogue Railroad to Ronkonkoma Railroad

7B

Patchogue Railroad to Medford, Bellport

7D

North Shirley, East Yaphank, Mastic Loop

7E

Mastic, Mastic Beach, Shirley Loop (Summer Service Smith Point Park)

8A

Riverhead

10A

Southampton to Sag Harbor, North Haven

10B

East Hampton, Springs to Bridgehampton

10C

East Hampton to Montauk

10D

Hampton Bays to East Quogue

10E

Hampton Bays Loop

H10
Cold Spring Harbor to Commack Plaza
H20

Halesite to South Huntington

H30

Halesite to Walt Whitman Mall

H40

Northport to Walt Whitman Mall

Suffolk Clipper
LIE Exit 63, Farmingville and LIE Exit 58, Islandia to
Hauppauge Industrial Park and NYS Route 110 Corridor

Nassau County Bus Schedules

Click on A Nassau bus route number below to view schedule...


N1

Jamaic-Hewlett - Elmont

N4/4X

Freeport - Jamaica

N6/6X
Local Hempstead - Jamaica Bus Terminal,
Express Hempstead - 179th St Subway Station
N15

Long Beach - Roosevelt Field

N16

Hempstead - Rockville Centre

N19

Freeport - Sunrise Mall

N20G/20H

Hicksville - Roslyn - Flushing

N21
Great Neck - Glen Cove
N22/A/X

Jamaica - Mineola - Roosevelt Field - Hicksville

N23

Manorhaven - Mineola -Hempstead

N24

Jamaica - Mineola - Roosevelt Field - East Meadow

N25

Lynbrook - Great Neck

N26

Great Neck - Jamaica

N27

Hempstead - Glen Cove

N31

Hempstead - Lynbrook - Far Rockaway

N32
Far Rockaway - Lynbrook - Hempstead
N33

Long Beach - Far Rockaway

N35

Baldwin - Hempstead - Westbury

N36

Lynbrook - Freeport

N40/41

Freeport - Mineola

N43

Freeport - Roosevelt Field - Hempstead

N45

Bellmore - Roosevelt Field

N47

Hempstead - East Meadow

N48

Hempstead - Jericho Quad

N49
Hempstead Hicksville
N54/55

Hempstead - Amityville -Sunrise Mall

N57

Great Neck Loop

N58

Great Neck LIRR - Kings Point

N70/71/72

Hempstead - Sunrise Mall - Farmingdale - Babylon

N78/79

Hicksville - Walt Whitman Mall - Plainview

Long Island Transporation Resources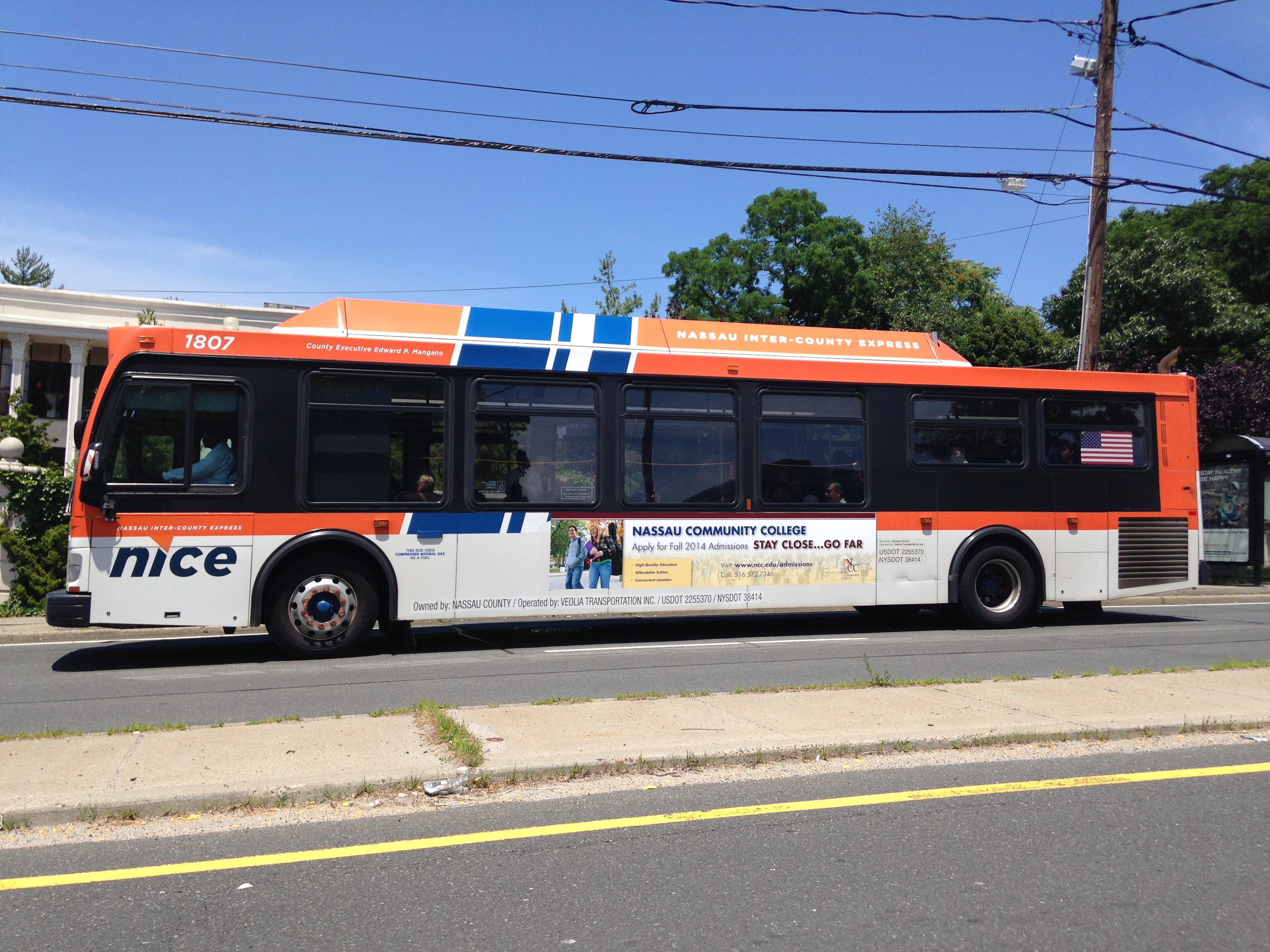 A NICE Bus in Nassau County
Source: LongIsland.com Staff
A Suffolk Transit Bus in Suffolk County
Source: LongIsland.com Staff
A Suffolk Transit Bus in Suffolk County
Source: LongIsland.com Staff
A NICE Bus in Nassau County
Source: LongIsland.com Staff