Enjoy an Elegant Easter Dinner - Recipes for Favorites Your Family Will Love!
This year, try adding something new to your time-honored Easter dinner traditions.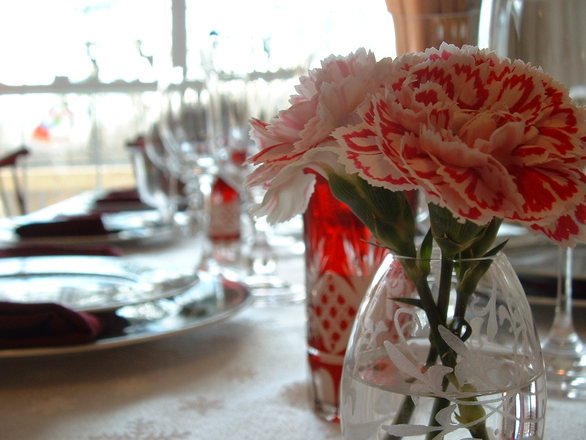 Easter is a time for families to gather together to enjoy long-held holiday traditions. Many of those traditions are, of course, incorporated into the family meal. Below we've assembled some time-honored favorites, along with a couple of recipes to add a bit of whimsy to your holiday meal.

The Easter Bunny bread recipe is surprisingly easy to make and will surely delight your family! So while you enjoy preparing your time-honored favorites, be sure to include something different in your menu this year. Who knows, you might begin a new Easter family tradition that will be handed down for generations!

Ham with Apple Raisin Sauce
A delicious twist on a family favorite makes a wonderful sauce and easy cleanup too!

Ingredients
1 tablespoon all-purpose flour

1 large oven roasting bag

4 medium tart apples, peeled and chopped

2 cups apple juice

1 cup raisins

½ cup packed brown sugar

1 teaspoon ground cinnamon

1 boneless fully cooked ham (approximately 6 pounds)
Directions
1. Shake flour in the oven roasting bag.
2. Place in an ungreased 13-in. x 9-in. baking pan.
3. Place the apples, apple juice, raisins, brown sugar and cinnamon in the bag; mix well.
4. Place ham in bag; close bag.
5. Cut six ½-in slits in top of bag.
6. Bake at 350° for 2 to 2-1/4 hours or until a thermometer reads 140°. Serve with sauce. Serves 16.

Scalloped Potatoes
Tip: Water bath ensures even, slow cooking for extra creamy potatoes. Delicious!

Ingredients
2 pounds russet potatoes, peeled and sliced 1/8-in thick

3 cups heavy cream

1 tablespoon all-purpose flour

1 bay leaf

¼ teaspoon freshly grated nutmeg

Kosher salt and freshly ground white pepper

Unsalted butter, softened, for the baking dish
Directions
1. Preheat oven to 350°.
2. Brush a shallow 2 ½-quart baking dish with butter. Put the potatoes in a large pot. 3. Whisk the cream, flour, bay leaf, nutmeg, 1 teaspoon sale and ¼ teaspoon white pepper in a bowl, then pour over the potatoes.
4. Cook over medium heat, carefully stirring occasionally, until the cream just comes to a simmer, about 12 minutes.
5. Continue to simmer, adjusting the heat if necessary while stirring to prevent the bottom from scorching, until the potatoes just begin to soften, about 5 more minutes.
6. Transfer the potato mixture to the prepared baking dish. Discard the bay leaf. Set the baking dish in a roasting pan and add enough water to come about halfway up the sides of the baking dish.
7. Bake until the potatoes are tender and golden brown, about 1 hour. Remove baking dish from the water bath and let stand 10 minutes before serving.

Glazed Carrots
This recipe will serve 6, so adjust accordingly.

Ingredients
2 pounds fresh carrots, sliced

2 tablespoons butter

¼ cup thawed orange juice concentrate

2 tablespoons brown sugar

2 tablespoons minced fresh parsley
Directions
1. Place 1-in. of water in a saucepan.
2. Add carrots and bring to a boil then reduce heat and cover.
3. Simmer for 7-9 minutes or until tender-crisp, then drain.
4. Melt butter in a large skillet; stir in orange juice concentrate and brown sugar.
5. Add carrots and parsley; stir to coat.
6. Cook and stir for 1-2 minutes or until glaze is thickened.

Decorative Easter Egg Cookies
Ready-made dough saves time, and kids will love to help decorating this treat! If they're lucky, maybe the Easter Bunny will put some in their baskets this year!

Ingredients
One 16.5-ounce tube ready-made sugar cookie dough (room temperature)

3 tablespoons all-purpose flour

2 tablespoons pasteurized egg whites

1 ½ cups confectioners' sugar

2 tablespoons lemon juice

2 cups assorted Easter candy (jelly beans, mini eggs, etc.)
Directions
1. Preheat oven to 350°. Line a baking sheet with parchment paper.
2. Mix cookie dough with the flour until it is an even texture.
3. Turn the dough out onto the prepared baking sheet and form it into the shape of an egg about ½-in. thick, 9-in. long and 7-in. wide at its widest point.
4. Bake until golden around edges, about 25 minutes.
5. Remove cookie from the oven and cool about 15 minutes.
6. Beat egg whites and sugar with an electric mixer until combined.
7. Add the lemon juice and continue to beat until thick and glossy, about 5 minutes.
8. Fill pastry bag or plastic baggie with icing, snip off a small corner and pipe decorations on the cookie.
9. Attach candies to piping in patterns to create a decorative Easter egg!

Easter Bunny Bread
Use frozen bread dough to create a whimsical treat that is sure to make everyone smile!

Ingredients
2 loaves (1 pound each) frozen bread dough, thawed

2 raisins

2 sliced almonds

1 egg, lightly beaten

Dip of your choice
Directions
1. Cut ¼ off of one loaf of dough; shape into a pear to form head. Form the body by flattening remaining portion into a 7-in. x 6-in. oval.
2. Place on greased baking sheet and place head above body.
3. Make narrow cuts, about 3/4 in. deep, on each side of head for whiskers.
4. Cut second loaf into four equal parts - For ears, shape two portions into 16-in. long ropes; fold the ropes in half. Arrange ears with open ends touching head. Cut a third portion of dough in half, shape each into a 3 ½-in. oval for back paws. Cut two 1-in slits on top edge for toes. Position on each side of body.
5. Divide the fourth portion of dough into three pieces. Shape two pieces into 2 ½-in. balls for front paws; shape the remaining piece into two 1-in balls for cheeks and one ½-in. ball for nose.
6. Place paws on each side of body; cut two 1-in. slits for toes. Place cheeks and nose on face. Add raisins for eyes and almonds for teeth.
7. Cover and let rise in a warm place until doubled, about 30-45 minutes. Brush dough with egg. Bake at 350° for 25-30 minutes or until golden brown. Cool on wire rack.
8. Place bread on serving tray. Cut a 3 ½-in. circle in center of body.
9. Hollow out bread, leaving a ½-in. shell. (If you like, you can cut the hollowed-out piece of bread into small pieces for dipping.)
10. Place a 1-cup shallow bowl in the hole and fill with dip.

Check out Rhodes Bake N Serve's How-To Video below for simple step-by-step instructions! Surround the bunny with vegetables and substitute hummus for dip if you like. Enjoy!

[Sources: Taste of Home, Food Network, Rhodes Bake N Serve]

Photo credit: popofatticus / Foter /CC BY 2.0
Videos
Join Our Weekly Newsletter

Sign up for a free weekly newsletter covering things to do, hottest local headlines, and everything Long Island! Read more here or enter your email to signup.