Hot Spots: Weekend Watch for Performance with Kanye West and Other Music Concerts, Musicals and More
By Wendy L Published: February 20 2014
Looking for entertainment for the end of the week? Check out the music concerts and musical performances going on this Friday and the weekend on ...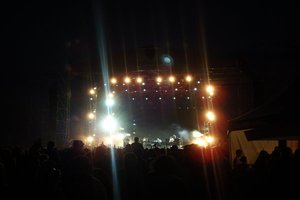 Get ready to pump it up with music concerts on Long Island all weekend long! There are performances to enjoy from Kanye West, Between the Buried & Me, Ragdoll, Bob Weir & RatDog, and others. There are also a number of musical performances to enjoy at Long Island theaters. Check out all the hot spots on Long Island here!
FRIDAY – FEBRUARY 21, 2014

Who: Between The Buried & Me At The Paramount
Info: This American progressive hardcore metal band incorporates spacey, progressive technicality and poignant rock!
Cost: $18 to $38
Time & Place: 7:30PM at The Paramount, 370 New York Avenue, Huntington – (631) 673-7300
Who: Hello, Dolly! At BroadHollow's BayWay Arts Center In East Islip
Info: This musical is set in Yonkers and New York City at the turn of the 20th century. It's based on the 1955 play, "The Matchmaker" by Thornton Wilder.
Cost: $25
Time & Place: 8PM at BroadHollow's BayWay Arts Center In East Islip, 265 E. Main Street, East Islip – (631) 581-2700
Who: February Funny Festival At Theatre Three
Info: Enjoy an evening of non-stop laughter with live stand-up comedy! The evening includes a full line-up of top comedians from Long Island, New York City and around the country.
Cost: $35
Time & Place: 8PM to 9:30PM at Theatre Three, 412 Main Street, Port Jefferson – (631) 928-9100
SATURDAY – FEBRUARY 22, 2014
Who: Ragdoll – The Music Of Frankie Valli And The Four Seasons At The Suffolk Theater
Info: Expect explosive sound and an entertaining show with this tribute band led by Eddy Rezzonico.
Cost: $35
Time & Place: 6:30PM Bar and Restaurant Opens, 8PM Show at The Suffolk Theater, 118 East Main Street, Riverhead – (631) 727-4343
Who: Bob Weir & RatDog At NYCB Theatre At Westbury
Info: Bob Weir, a founding member of the Grateful Dead, and other heavy hitters such as Jay Lane, Mark Karan, Rob Wasserman, Kenny Brooks and Jeff Chimenti perform to please fans young and old. The group combines original songs with Grateful Dead and folk classics.
Cost: $39.50 to $49.50
Time & Place: 7:30PM at NYCB Theatre at Westbury, 960 Brush Hollow Road, Westbury – (516) 247-5200
Who: Hair – The American Tribal Love-Rock Musical At Cultural Arts Playhouse At Roslyn Heights
Info: This musical classic follows a group of young Americans in search of love and peace during the Vietnam era.
Cost: $25
Time & Place: 8PM at Cultural Arts Playhouse at Roslyn Heights, 40 Lincoln Avenue, Roslyn Heights – (516) 694-3330
SUNDAY – FEBRUARY 23, 2014
Who: Why Do Fools Fall In Love? At James Street Players
Info: Enjoy this musical comedy about four girlfriends who are gathered at a 1966 bachelorette party for one of their own, when they discover more about each other's love life.
Cost: $20, $18 For Seniors and Students
Time & Place: 3PM at James Street Players, 21 James Street, Babylon – (631) 649-4140
Who: RAIN – A Tribute To The Beatles At LIU Tilles Center
Info: This concert covers the Fab Four from the earliest beginnings through the psychedelic late 60s and their long-haired hippie, hard-rocking rooftop days. This performance marks 50 years to the day of the Beatles' third appearance on the Ed Sullivan Show in February 1964.
Cost: $53 to $83
Time & Place: 7PM at LIU Tilles Center, Route 25A, Brookville – (516) 299-3100
Who: Kanye West At Nassau Coliseum
Info: Get ready for some hip hop and rap with Kayne West! He's out on tour with his Yeezus album.
Cost: $20 and up
Time & Place: 8PM at Nassau Coliseum, 1255 Hempstead Turnpike, Uniondale
To check out all of the Nightlife Events happening on Long Island, check out the LongIsland.com Events Calendar, or, head over to our Nightlife Section for Happy Hour Happenings all week long! If you're looking for some local insight on the best things to do on LI, or want to share your favorite Nightlife Hot Spots, check out the Nightlife Forum, and see what the locals have to say!
Join Our Weekly Newsletter

Sign up for a free weekly newsletter covering things to do, hottest local headlines, and everything Long Island! Read more here or enter your email to signup.