Hot Spots: Movie Screenings, Plays and Other Performances in the Latest Weekly Watch
By Wendy L Published: January 06 2014
Had enough staying at home from Winter Storm Hercules? Check out the hot spots on Long Island for this week!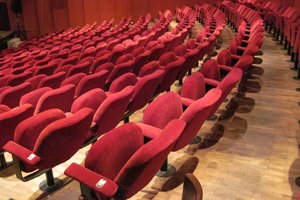 Winter Storm Hercules came to Long Island with impact, but don't let that stop the fun and entertainment on Long Island! This week is packed with free movie screening opportunities. There's also a hockey game with the Islanders and plays and other programs to enjoy! Check out the hot spots on Long Island here!
MONDAY – JANUARY 6, 2013
Who: Movie – Hitchcock At Bayville Free Library
Info: Enjoy a free screening of Hitchcock! It's a love story about one of the most influential filmmakers.
Cost: Free Event
Time & Place: 2PM at Bayville Free Library, 34 School Street, Bayville – (516) 628-2765
Who: Hockey – New York Islanders Vs. Dallas Stars At Nassau Coliseum
Info: Enjoy a game of hockey as the New York Islanders host a game with the Dallas Stars!
Cost: $24 to $160
Time & Place: 7PM at Nassau Coliseum, 1255 Hempstead Turnpike, Uniondale – (800) 882-4753
TUESDAY – JANURARY 7, 2013
Who: The Longest Night – A Winter's Tale At Vanderbilt Museum And Planetarium
Info: This seasonal show for children and families by the University of North Carolina's Morehead Planetarium and Space Center represents a new advance in full-dome planetarium video storytelling that seamlessly combines live-action video of life-sized puppets with 3-D animation. It's a timeless fable about courage, generosity and renewal that follows a young girl in her quest to save her village.
Cost: $7 For Adults, $6 For Seniors, $3 For Children Under 12
Time & Place: 2PM at Vanderbilt Museum And Planetarium, 180 Little Neck Road, Centerport – (631) 854-5579
Who: Movie – The Wolverine At Brookhaven Free Library
Info: Enjoy a screening of this action/adventure movie starring Hugh Jackman.
Cost: Free Event
Time & Place: 2PM at Brookhaven Free Library, 273 Beaver Dam Road, Brookhaven – (631) 286-1923
WEDNESDAY – JANUARY 8, 2014
Who: Movie Matinee – Love Is All You Need At Oceanside Library
Info: Set in Sorrento, Italy, a cancer survivor whose husband left her for a younger woman and a middle-aged widower find romance when they meet at the wedding of their children.
Cost: Free Event
Time & Place: 2PM at Oceanside Library, 30 Davison Avenue, Oceanside – (516) 766-2360
Who: Creatures Of The Sea… From The Wacky To The Wonderful! With Todd Gardner At Cold Spring Harbor Library
Info: This nature program will answer questions about the creatures of the sea that you never knew! Todd Gardner will be instructing the program and will discuss things such as how a whale can hold their breath for so long, why are corals in danger over a small increase in global temperature if they have been around for more than 300 million years and much more!
Cost: Free Event
Time & Place: 7PM at Cold Spring Harbor Library, 95 Harbor Road, Cold Spring Harbor
THURSDAY – JANUARY 9, 2014
Who: Dead Love Dove And Zen Archer At Patchogue Theatre For The Performing Arts
Info: Enjoy the sounds of the Long Island bands who will be performing a mixture of genres including country, folk, Americana, rock, indie and punk. Price includes a beverage.
Cost: $10
Time & Place: 7:30PM at Patchogue Theatre for the Performing Arts, 71 E. Main Street, Patchogue – (631) 207-1313
Who: Sex, What She's Really Thinking At Center Stage At Southampton Cultural Center
Info: This new play, written and conceived by Ilene Beckerman, author of Love, Loss and What I Wore, together with Center Stage director Michael Disher, explores the many unspoken (until now) thoughts women and men have when sexual subjects and scenarios arise. It's a fast paced full monologue with sketches stamped with Beckerman's unique wisdom and wit.
Cost: $22
Time & Place: 7:30PM at Center Stage at Southampton Cultural Center, 25 Pond Lane, Southampton – (631) 287-4377
To check out all of the Nightlife Events happening on Long Island, check out the LongIsland.com Events Calendar, or, head over to our Nightlife Section for Happy Hour Happenings all week long! If you're looking for some local insight on the best things to do on LI, or want to share your favorite Nightlife Hot Spots, check out the Nightlife Forum, and see what the locals have to say!
Join Our Weekly Newsletter

Sign up for a free weekly newsletter covering things to do, hottest local headlines, and everything Long Island! Read more here or enter your email to signup.